Macafem Reviews 2022: We Did It Again
We did it again! We delivered on our promises. We made hundreds of our customers happy and fully satisfied. But it's not just about celebrating our accomplishments. Here at Macafem, it's all about celebrating your successes, your drive to take care of your health, and the courage to do it wholesomely. As we're closing another year feeling grateful and inspired, let's take a look at how far women like you have gone with Macafem by their side.
Julie Says Macafem is a Game Changer
Julie – USA
I'm in shock but it literally worked after the first dose. I was waking up from hot flashes 6+ times a night, since starting on Macafem I haven't really had any. It's maybe too soon to tell, as it's only been two weeks, but my mood swings seem to have stabilized and I feel like I'm losing weight, or at least the bloat, which is fine, I'll take it. If the only thing is solves is the hot flashes I'll still keep on it as that's a game changer.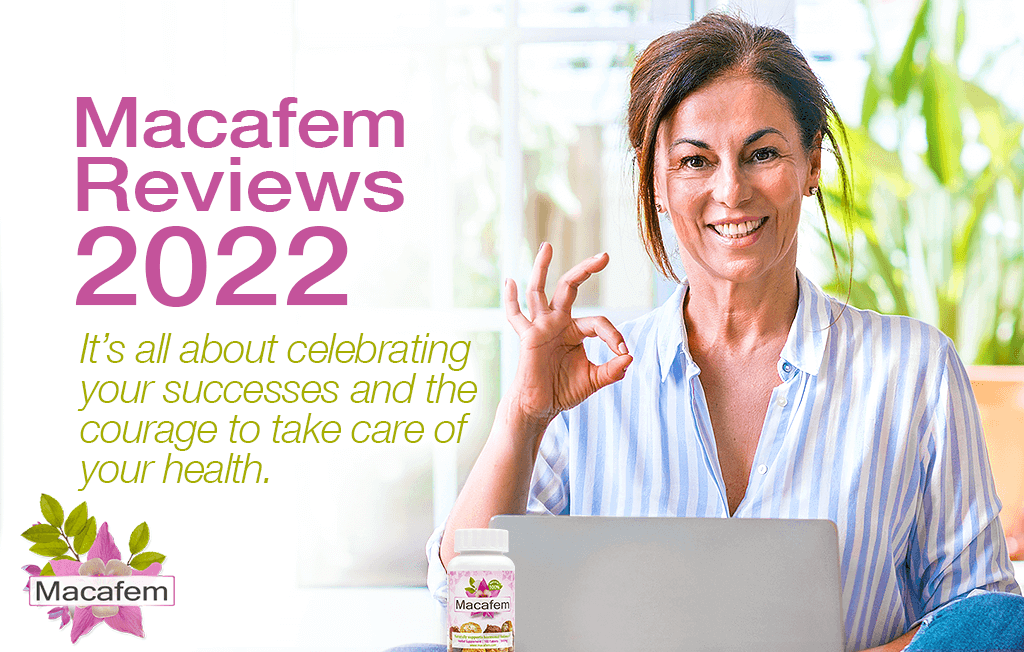 Carol Saw Improvements After One Month
Carol – USA
Macafem is amazing. After one month I can see a complete improvement in my hot flashes and night sweats. Hoping after a few more months of use, it'll help more with the weight gain and libido. I highly recommend this product.
Pauline Tried Other Supplements Until She Found Macafem
Pauline – U.K.
Thank goodness I found Macafem as I was suffering from the most terrible joint pain and cracking of my joints everywhere as well as continual hot flushes throughout the day. My symptoms literally stopped within days of taking Macafem no more aches no more cracking of joints it was like a miracle. I have tried other suppliers but this one is the best and has changed the quality of my life. Thank you so much
Debora Ran Out and Her Symptoms Came Back Right Away
Debora – USA
I am Perimenopausal and I experience hot flashes, headaches, joint pain and so on. I have taken Macafem for about a year and a half. I ran out about 2 weeks ago and just didn't reorder. Well the headaches, joint pain, hot flashes have returned that is when it hit me this stuff really works
Beth is Impressed with How Effective Macafem Is

Beth – USA
Grateful I found Macafem and experienced immediate relief from perimenopause issues. Shortly after starting Macafem, I was also diagnosed with hypothyroidism and began treatment for that. However, with Macafem, I had a quick and significant improvement in my energy, dry eyes, and irregular cycle. My period is still not regular, as expected with perimenopause, but it was coming every 2 weeks for about 6 months and I was exhausted. While my period is still unpredictable, it is not every 2 weeks. I have tried many products with minimal results. I am most impressed with the energy I experienced and relief from dry eyes. I no longer need to use eye drops and dry eyes make you feel tired all the time.
Macafem Relieved Margaret's Hot Flashes Within the First Week
Margaret – USA
I had been struggling with menopause symptoms for about a year. My friend recommended that I give Macafem a try to alleviate the hot flashes, night sweats, etc. Within the first week on this magic supplement, my menopause symptoms dwindled down to nothing. I haven't had a hot flash or sweaty night since! I highly recommend you give Macafem a try!
Lana Regrets Taking a Break from Macafem
Lana – USA
Macafem saved me!! The hot flashes, the moodiness, the hormones, and overall well-being! The hot flashes stopped the moodiness and the imbalances.
I stopped taking it for about 3 months and wow! I am sorry that I did! I am back and am one happy customer. I have also recommended it to many others.
Ladies, this truly works.
What stands out from these wonderful customer reviews is that Macafem is a universal supplement for hormonal imbalance. So many different women, each with a different story and different health needs, shared their feedback. And Macafem has shown yet again to be excellent at what it does: safely and effectively leading women towards optimal health during menopause and beyond.