Macafem Reviews
Macafem is an all-natural supplement that balances hormone levels in women by nourishing the endocrine glands. Read the latest Macafem reviews from women who have already tried this herbal supplement and overcome their symptoms of menopause, PMS, and other hormonal disorders.
Rated : 4.6 / 5
Based on 77 Reviews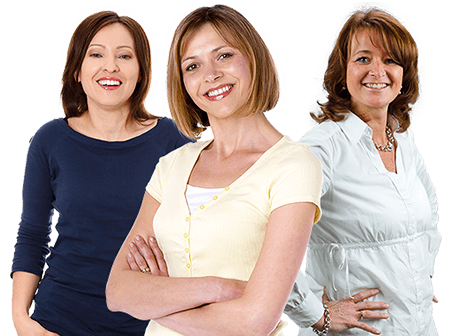 I was totally amazed at how my Hot Flashes and Night Sweats were relieved so quickly! I had been on Hormone replacement therapy for 7 years….and within 3 weeks of starting on Macafem, they were nearly all gone! I also noticed my energy "returning". It's nice to know that there is a product that balances my entire system, without adding artificial "hormones"!
Now, I highly recommend Macafem to all my friends having the issues I was dealing with.
I had been taking Black Cohosh with minimal results but within 2 weeks my hot flashes, dryness and lack of libidio was completely gone with Macafem! I was cautious at first- I am estrogen dominant ( migraine triggers) but Macafem worked beautifully! As a Nurse Practitioner I am always open to natural treatments. I would highly recommend this product!
This product is a life saver. I was having headaches, dizziness, and my blood pressure was not regulated. My doctor wanted to put me on high blood pressure medication. Then I found Macafem…Within 3 weeks I began to feel like my old self again. I just renewed my supply! Highly recommend.
I am almost 47, a mother of seven biological children ages 19-3 and I homeschool, so a lot of energy is given out on a daily/yearly basis. I began experiencing headaches randomly throughout the year in my early 30's. once I was in my 40's and still having babies, my headaches increased along with a deep depletion feeling. The past three years have been awful!
My doctor said my hormones were normal and everything about me was healthy and yet I felt so far away from the person I usually was. Most days were either fighting headaches or fighting a very lethargic and utterly depleting feeling. I stumbled across Macafem and decided to give it a shot. Before this I had researched everything from nutrition to chiropractors to doctors and nothing was making a difference. With in a week and a half to two weeks I was suspicious that this was my answer. I needed to wait until I had gone through two cycles and then it was confirmed! No headaches! No depletion feeling! For the last two years I would get headaches that lasted 3 to 5 days at least two times a month. That really robs a lot of life from you and makes it very hard to be a wife, a mother, and a friend!
I now feel like I am "ME". I WANT to get up and care for my family. I WANT to get up and bake and cook. I WANT to go hiking! And I feel like I have the energy to do it now. I despise multi marketing businesses but if Macafem was a multi marketing business, I would sell it. Not because I think I would get rich, but because I believe it really works and it doesn't cost a fortune.
After having four months of great success I came across a website that gave another product higher reviews. Because I thought that would maybe be even better than this product I gave it a try. With in a week and a half I could feel the headache and depletion feeling coming on. I immediately switched back to Macafem and feel like a million bucks again! Will not switch again!!!
Macafem has really helped me. I can sleep through the night with out interruption, hot flashes have stopped and emotions are not roller-coaster. I'm known to be a nice peaceful person so to be moody was strange for me and those who know me. I saw improvement in 4-5 days by taking 1 to 2 pills a day. I placed my second order today .
I gave Macafem a try to help with my menopause symptoms. I was surprised at how much it made my hot flashes much more bearable. I thought I could do without it but I'm ordering my second bottle today. I can't go through the day without my Macafem!
Since starting this product my menopause symptoms have been greatly more handled, finding this product was a miracle. I have since passed it on to more woman and men who bought it for their wives. Being happy, healthy is wonderful, and it's all natural that is I could ask for. Thank you.
I have taken Macafem for over 5 years. I now only take about 2 per day . A new member would take more for their body to adjust. I find if I don't take it I get cramping and headaches This product is wonderful and makes me feel better. I am nearly 65 and have been menopausal for 9 years but it works well for me. Thanks Macafem
Marlene. in Canada
I have been taking macafem for more than a year. I only take 3 tablets a day with breakfast because any taking any more later keeps me awake at night. I get some daytime relief from hot flushes but I suffer at night. I continue to take macafem because it seems to be the only menopause remedy that helps somewhat. I've tried many, many others but they all make me ill. I will continue to take macafem because some relief is better than none at all.
It's working great for me at 1.5 tablets a day! Almost all signs of hot flashes are gone, I have way more energy and I'm not nearly as dizzy. I shared this info with my primary care doc and he gave me the thumbs up on taking it!
Share Your Macafem Review With Us!