I really like this product. I am very sensitive to supplements (prone to migraines) and I have had no problems at all with Macafem. I take this regularly with my vitamins every day and my hot flashes are gone, gone, gone. I recently moved to another state and ran out of Macafem and after about a week the hot flashes returned. So, here I am quickly ordering replacement supplements because it's hot enough already in California!!
P.S. Somehow eating avocados causes hot flashes for me, despite Macafem, so if you continue to have hot flashes, do a trial and stop eating avocados. Sad, I know.
Macafem is one thing that actually has helped me with hot flashes and menopause symptoms. I can not do hormone replacement due to a family history of breast cancer. I have recommended it to friends.
I have been using Macafem for a couple of since the summer of 2017. It took about 3 weeks of taking it for me to notice a change. My menopause symptoms are very minimal. I recommend this to all my friends and family!
Macafem absolutely works! I was experiencing mood swings, erratic period, weight gain, fatigue and hair loss. All of my symptoms have subsided. I feel myself again. I'm so thankful that I stumbled across this online while researching menopause symptoms and recommend this product to all ladies. It really does work.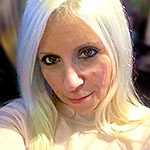 This product is a life saver! Since I have started using Macafem I do not get hot flashes or any other menopause symptom. I have a very physical job and this whole menopause thing was torture. Since I started Macafem has helped immensely. I tell every women I know about this product and direct them to this site. The fact that it is a natural product sells it even more. Thanks to the creators of this product!!!
Keep up the great work on helping women get through one of the toughest times of there lives
⭐️⭐️⭐️⭐️⭐️
Denise from Roch.N.Y.
I have tried many products, none can compare to Macafem. I don't write reviews unless the products truly work for me. This product has dramatically decreased my hot flashes and has made me feel at peace with myself while having to go through this stage in my life. Thank you Macafem! You truly are the best!
I started by seeing results within a few weeks..hot flashes are down tremendously and my 'mood' has improved according to my husband Hahahaaa.. Since its new..Im going to buy another month supply until I'm sure everything is going well with my body and the improvements are still getting better..then I can start getting the 'multiple' bottles to save some money. Thanks Macafem!!!!
Macafem tablets really helped my early menopause symptoms, my period was being irregular for a few months,from i started taking these tablets my period comes every month like clockwork.
Macafem has helped with my menopausal symptoms, hot flushes are now gone, sleeping better at night and slowly getting the hormones balanced again
Very happy with the product and will keep using this for as long as I can.
I am really thankful.
Macafem is being helping me to stay at work. All those side effects from the menopause had vanished and I am feeling more in control of my health
Thank you for your great product