Macafem Reviews 2023 (So Far)
It may come as a surprise, but menopause doesn't have to disrupt your life. All you need is an ally, and what better option than Macafem? We hear from countless women about how Macafem has helped them regain control of their post-reproductive lives. Here's a sample of Macafem Reviews 2023 for you to see how it can lend you a helping hand throughout your menopausal years as well!
Amitie: "My Life Became Happy with Peace and Calm"
Amitie – USA
I am surprised with Macafem. After taking it for two weeks, it gives me actual relief, and it works wonders. I realized that Macafem is exactly what I need and look for. (…) My energy level improved, my moodiness and emotion became stable, normal. And I am sleeping all night through every day. My skin complexion became radiant. This is the amazing effect that I am looking for. My life became happy with peace and calm.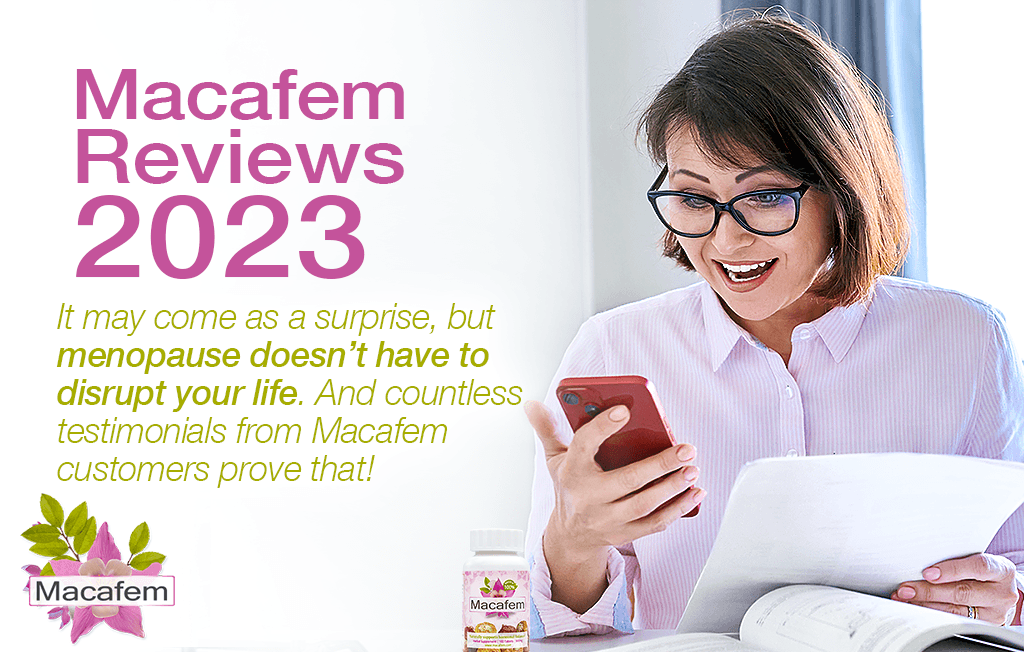 Marlene: "Sex Life is Back Without Pain or Dryness"
Marlene – USA
I started taking Macafem in Feb 2022. It has helped both the hot flashes and vaginal dryness. I am so glad I found this pill online. I was taking two in the morning and one at night. I now take one pill and the morning and one at night and is working great. I still have a hot flash once in a while but nothing like before. Best of all the sex life is back without pain or dryness :).
Keng: "It Reduces My Anxiety and Mood Swing"
Keng – USA
I am taking Macafem for seven years. It reduces my anxiety and mood swing. It also improve my skin complexion. I look much younger after taking Macafem. I am 63 years old now. Thank you Macafem and I have recommended to my friends.
Penny: "I Can Remember Things Better"
Penny – USA
Macafem has helped me with joint pain, night sweats are very low, my energy level increased, and I can remember things better.
Tosha: "Life is Better with Macafem"
Tosha – USA
I don't ever want to run out. Life is better w/ Macafem. I still go thru rough spots at times but back on track in no time. When I hit these rough spots, I have started taking 1 extra a day & in a couple days I'm back to my normal dose & feeling well.
Seeing the tangible difference that Macafem causes in the lives of our customers is exactly what keeps us going — and for soon to be 20 years! These are real women sharing real stories of what going through menopause means to them and how Macafem naturally soothes those oftentimes difficult experiences.