What Causes Bloating during Menopause?
Under normal circumstances, bloating is most often associated with specific trigger foods or mental states. While the exact causes of abdominal bloating are complex and diverse, most doctors and researchers believe that during menopause, hormonal changes are the primary cause of their increased severity. Estrogen and progesterone influence the body's level of sodium retention, as well as the function of peristalsis, or intestinal movements that make food pass smoothly through the digestive tract.
Menopausal bloating seems sharply worsened by premenstrual syndrome (PMS), especially whenever periods are irregular. In addition, some of the management techniques often used against other symptoms of menopause – such as eating more fiber to control weight fluctuations – may also trigger more severe abdominal bloating.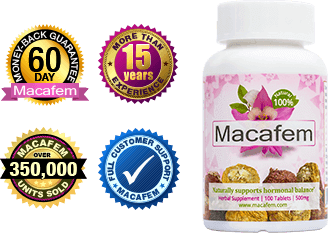 How Macafem Stops Your Bloating
Macafem contains different unique beneficial alkaloids that address the endocrine glands directly, nourishing them from the inside. In turn, this causes the different glands to begin working harmoniously again, each producing the proper amount of hormones. Once efficient hormone production is restored, bloating will become a less common occurrence.
Meanwhile, there are many lifestyle adjustments that can deflate a woman's stomach while the body is still repairing itself. It's advised to temporarily stop eating legumes (beans, chickpeas) and diminish consumption of irritating spices (like cayenne pepper). Likewise, mild or moderate physical exercise – like a short restorative yoga session or a quick walk – after meals can help prevent bloating, as can other home remedies, like oregano infusions.
Find Relief Naturally – Take Macafem!
Our Product
Macafem – a completely natural supplement – is sourced from high-quality ingredients and is produced in line with the best standards in the industry. We aim for excellence in every stage, from the growing fields to the comprehensive customer support we offer.
Your Trust
Many women have used Macafem to diminish or eliminate the unwanted symptoms of menopause. Read more about their personal stories via their Macafem reviews: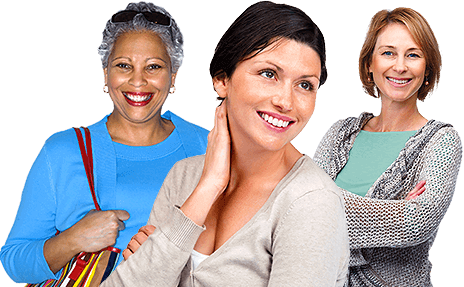 I found this product on the tail end of menopause. Still had some symptoms of bloating and pain on my lower left side due to constipation during mid cycle. I bought 2 bottles to try and on my reorder of 3 bottles. I believe this has helped so please give it a try. I wished i would have found this 3 years earlier.
I have been taking Macafem on and off for about 4 years. I started because I had numerous irritating symptoms of menopause: itchy skin, bloating, hot flashes etc. I searched the internet for information and found Macafem. Within a couple of weeks symptoms reduced or went away completely. At times my symptoms completely go away and then I try not taking Macafem. Symptoms always come back. So I am back on them again.

If I
Macafem started working within two weeks! I am not as bloated at all and my periods are becoming more normal, less heavy! My overall well-being has improved. I am sold on this product!
Macafem has been amazing I am 66 years old with all the PMS and menopause symptoms and then some weak hot flashes breast tenderness sweating moody burning feeling weight gain bloating etc. After a week all gone it was a miracle I am now ordering my second bottle of 30 day and will buy forever
Read all reviews - Over 500 sincere reviews by women who relieved their menopause symptoms thanks to Macafem.