Why Do Mood Swings Happen?
During menopause, levels of reproductive hormones begin to fluctuate. Estrogen levels in particular are closely linked to the action of serotonin, a neurotransmitter – that is, a brain hormone – responsible for inducing feelings of elation and enjoyment. Estrogen can affect both serotonin production and the brain's sensitivity towards it, so any fluctuations in estrogen levels can quickly cause sharp changes in mood and energy.
Meanwhile, progesterone and testosterone also play a part: while the former is known to lower anxiety levels and promote quality sleep, testosterone is the "hormone of aggression," and a marked increase in its levels can also cause a woman to react to seemingly minor situations in ways she wouldn't normally.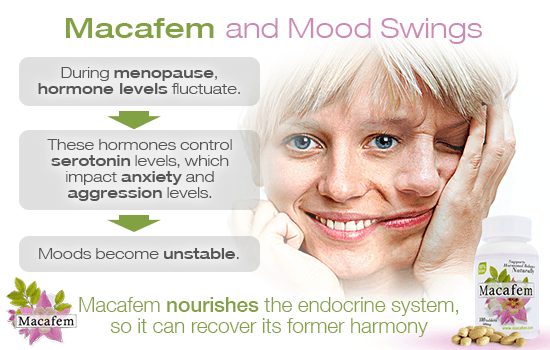 How Macafem Helps You Conquer Mood Swings
Macafem's unique nutrient profile has been shown to act directly on hormone-producing glands, nourishing them and allowing the endocrine system to regain its former functionality. Once hormonal balance is restored, the detrimental effects of estrogen deregulation on serotonin will disappear. As serotonin levels return to normal, moods will become more stable and resilience to unpleasant events will improve.
In addition to the effects of Macafem, it is highly advisable for women to experiment with additional relaxation techniques, as well as healthier diet and exercise habits. Setting apart some time to meditate, practice deep breathing exercises, or just relax will be extremely helpful when coping with mood swings and keeping them from worsening. In addition, cardiovascular exercise triggers an immediate release of serotonin and endorphins, which can improve mood and energy levels immediately.
Make a Healthful Choice – Take Macafem!
Our Product
Macafem is an all-natural supplement sourced from the best ingredients available and produced under the highest quality standards. We supervise every step of production and sale – from the cultivation of the ingredients to the full customer support we offer – in order to achieve our goal of providing a top-quality product.
Your Trust
Learn more about getting rid of mood swings with Macafem in these customer reviews: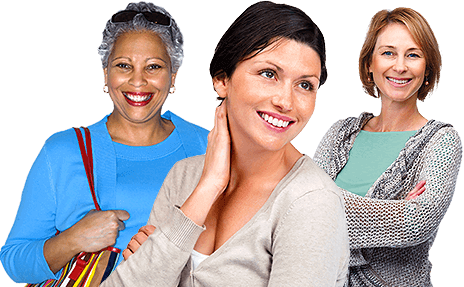 I've been taking Macafem for six months now. It has really helped diminish my hot flashes, night sweats and inability to sleep soundly. My mood and energy levels are much improved as well. My menstrual cycles are also more regulated as well. Before taking Macafem I was very worried about how I'd survive all of these pre-menopause symptoms. Taking Macafem has made a dramatic difference for me, I don't know what I'd do without it. Thank you!
Macafem has completely stopped the hot flashes and the night sweats. It has also levelled out my moods. It is so great to be able to take a natural supplement rather than conventional medicine that the doctors are always pushing people to take....I believe mother nature has everything we need to help our bodies and I am very grateful for Macafem!!!
Macafem has made such a big difference in my teen daughters life and in our family. Since taking Macafem. she no longer suffers from PMS, therefore the family no longer has to suffer HER PMS either! She also suffered from depression, and she says that she is much happier now. Her moodiness and grouchiness is gone. The first month of taking Macafem, I could tell a little change. However, by the second month of taking Macafem, I did not even know that
Macafem has been a lifesaver for me! It has drastically reduced the number of hot flashes that I have from more than 10 a day to maybe a few a week and sometimes less! My sleep is better and my mood is better. I highly recommend Macafem as a natural alternative to traditional HRT.
Read all reviews - Over 100 sincere reviews by women who relieved their menopause symptoms thanks to Macafem.