Why Are You Experiencing Night Sweats?
Night sweats happen for a variety of reasons, but among women of reproductive age, the most overwhelmingly common cause is a sudden drop in estrogen levels. This hormonal imbalance causes the hypothalamus – the part of the brain that regulates body temperature – to get "confused" and believe the body is overheating. As a response, it sends an instant message across the body to cool itself down: heat is released through the skin, pores open, and profuse sweat occurs.
When this process happens during the day, women are more likely to notice the abrupt flushing and flustered sensation, or the dreaded hot flashes; at night, they usually don't until they wake up feeling sweaty, cold, and clammy.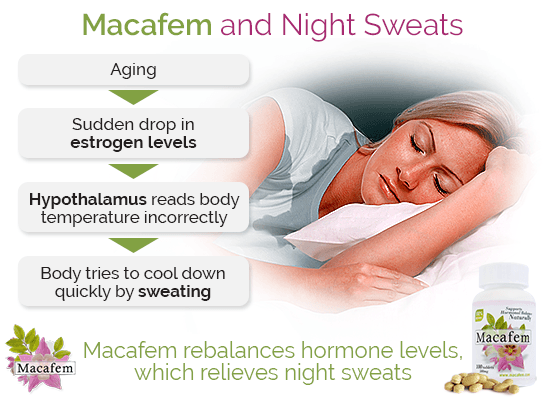 How Macafem Relieves Night Sweats
Macafem nourishes and stimulates the hormonal system, allowing it to work efficiently and produce hormones accordingly. Once your hormonal glands are restored to their previous strength and efficiency, the sudden drops in estrogen levels will diminish, and the hypothalamus will work more accurately as well.
In addition, Macafem will help improve sleep quality and increase daytime energy levels, which are often also disrupted by hormonal imbalance. This can be rounded out by some lifestyle changes – such as becoming more physically fit or rearranging bedroom furniture in a way that promotes a cooler environment.
Make a Health-conscious Choice – Take Macafem!
Our Product
Macafem is an all-natural supplement derived from premium ingredients and produced in adherence to the highest standards in the business.  Our endeavor is to provide you with a top-quality product. To achieve this, we oversee every stage in the process, from meticulous cultivation to comprehensive customer care.
Your Trust
Learn more about real women and their experience with Macafem and night sweats!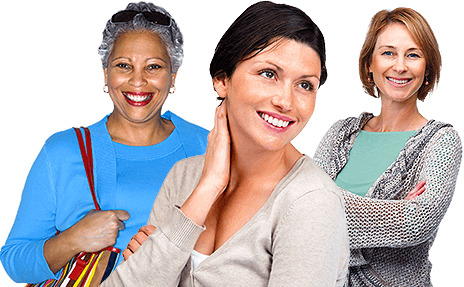 This has been my life saver. I have been suffering for 3 years with severe night sweats and hot flashes. I have not been able to keep dry at all day or night. My Doctor's refused to help me. It started causing burning and severe pain to my hands and feet. I was developing crippling arthritis like symptoms. Since using your product I have become pain free and my clothes stay dry now. I still get hot flashes but they are greatly improved. I am so
I have been using Macafem for several years now and I always think when I run out that I don't really need to reorder because I'm feeling fine and it's not really doing anything for me, but..... After only a few days without it I know I am wrong! All of my old problems come back! I start having hot flashes several times an hour during the day, wake up with hot sweats during the night, get weepy over tiny things

I should
Menopause hit me like a ton of bricks! The night and day sweats and mood swings were the worst. I knew I did not want to go to the doctor, because he just wanted to put me on hormone therapy. I found Macafem when I was searching for a all natural way of dealing with it. I have been on it more more than a year now, and I can honestly say it has been a God sent. I feel like I have control over my self, I sleep better, I have more energy and
I haven't had a night sweat since 3 days into starting macafem. I am sleeping so much better.
Read all reviews - Over 100 sincere reviews by women who relieved their menopause symptoms thanks to Macafem.
Learn About Macafem