Why Are You Experiencing Night Sweats?
Night sweats happen for a variety of reasons, but among women of reproductive age, the most overwhelmingly common cause is a sudden drop in estrogen levels. This hormonal imbalance causes the hypothalamus – the part of the brain that regulates body temperature – to get "confused" and believe the body is overheating. As a response, it sends an instant message across the body to cool itself down: heat is released through the skin, pores open, and profuse sweat occurs.
When this process happens during the day, women are more likely to notice the abrupt flushing and flustered sensation, or the dreaded hot flashes; at night, they usually don't until they wake up feeling sweaty, cold, and clammy.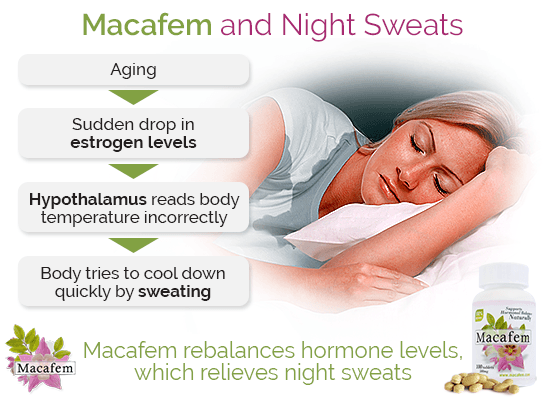 How Macafem Relieves Night Sweats
Macafem nourishes and stimulates the hormonal system, allowing it to work efficiently and produce hormones accordingly. Once your hormonal glands are restored to their previous strength and efficiency, the sudden drops in estrogen levels will diminish, and the hypothalamus will work more accurately as well.
In addition, Macafem will help improve sleep quality and increase daytime energy levels, which are often also disrupted by hormonal imbalance. This can be rounded out by some lifestyle changes – such as becoming more physically fit or rearranging bedroom furniture in a way that promotes a cooler environment.
Make a Health-conscious Choice – Take Macafem!
Our Product
Macafem is an all-natural supplement derived from premium ingredients and produced in adherence to the highest standards in the business.  Our endeavor is to provide you with a top-quality product. To achieve this, we oversee every stage in the process, from meticulous cultivation to comprehensive customer care.
Your Trust
Learn more about real women and their experience with Macafem and night sweats!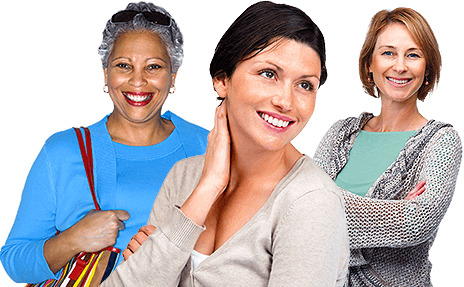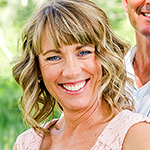 Oh my goodness, Macafem did exactly what I needed! I HIGHLY recommend this for finding relief from menopause symptoms. Menopause had hit me hard (I'm 51). The night sweats were happening several times throughout the night so I could not get quality sleep. Hot flashes several times a day where the sweat would drip off me, and my mental clarity/emotional

well being was deteriorating fast. I searched and found Macafem and
I've been using Macafem for the past 5 years, and throughout that period of time, I've experienced a total of 5 night sweats, which equals about 1 night sweat per year. Before Macafem, I used to experience night sweats several times every month. Macafem has been a true blessing for me.
I have been taking Macafem for about 5 years now. My doctor had offered me HRT, but I really didn't want to go that route. Macafem has been a lifesaver! I wasn't sleeping due to hot flashes and that somewhat "edgy" feeling, where you just can't settle down, and leg aches. I was getting migraines often, and was extremely moody with no patience....

basically constant PMS-like symptoms, but was heading into menopause. I am
I feel much better. I don't have night sweats at night and my PMS symptoms are managable. I believe macafem has really helped me. I am periomenopausal at 54 years old and will continue to use macafem during my transition.. Thank you.
Read all reviews - Over 500 sincere reviews by women who relieved their menopause symptoms thanks to Macafem.