Why Do We Only Sell Macafem Online in Australia?
Building on more than a decade of experience in delivering our high-quality product directly into the hands of women around the world, we aim to complement Macafem with user-friendly information and excellent customer service. For that reason, Macafem supplements are available in Australia exclusively through our online store.
By not using third party companies, stores, or pharmacies to distribute our product, we can personally ensure the best consumer experience for our Australian customers.
This means that you will not find Macafem at Woolworths, Coles, or any of the shops or chemists in the box to the right. To buy Macafem supplements, simply place an order through our website.
Where is Macafem NOT sold?

Macafem is not available in any Australian supermarkets, pharmacies, or wholesalers, such as:Woolworths, Woolworths Metro, Food For Less, Bi-Lo, Bi-Lo Mega Fresh, Coles, Coles Central, Coles Express, Pick 'n Pay Hypermarket, IGA, Supa IGA, Flemings, Safeway, Friendly Grocer, Foodworks, Australian United Retailers Limited, Farmer Jack's, Aldi Australia, Fishers, Fresh Provisions, Costco, Foodland Supermarkets, Leo's Fine Food & Wine, Macro Wholefoods, Maxi Foods, NQR, Supabarn, Valuemart, Franklins, 5 Star, SPAR, DeDe's Discount Supermarker, Discount Drug Stores, Think Pharmacy Group, Healthy Pharmacy, Pharmacy 4 Less, In2Health Pharmacy, Blooms The Chemist, Chemist Warehouse/My Chemist, Capital Chemist, Pharmacy 777, Pharmacy Help, Pulse Pharmacy, Pharmore, YouSave Chemist, Greg's Discount Chemist, Pharmasave, or Oze-Pharmacy.
Buy Macafem Safely and Efficiently
Purchasing Macafem via our online store is quick and 100% secure. We manage our own order fulfilment center so that we can provide all of our clients with the best possible shipping and handling service.
Macafem has been available online for over 15 years.
We ship to more than 60 countries, Australia included.
We offer a full refund policy and customer satisfaction guarantee.
You will receive full customer support pre- and post-sale.
Shipments typically take 1 – 2 weeks to reach your doorstep.
Thousands of clients have purchased over 250,000 bottles during that span of time.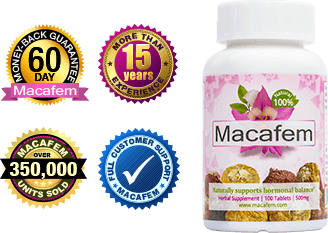 Some Testimonials from Clients in Australia
Have had relief from hot sweats by about 50% also helps considerably with sore breasts.
Have been taking Macafem as I didn't want to take hormones when I started 'having my own private summers' ~ very helpful ~ give it a go ~ believe you will be nicely surprised at how effective they are ~ swear by them now ~ Victoria
I haven't had a night sweat since 3 days into starting macafem. I am sleeping so much better.
I truly believe that every woman going through menopause should be taking Macafem - it has settled my symptoms like none other, at first I was a bit skeptical but thought what have I got to lose. I ordered my first 3 bottles and started taking as soon as I received them. I took them for 3 months with unbelievable results! I thought I would take a break for a month or so to see how I would feel. The truth is that I didn't realize how amazing Macafem
Read all reviews - Over 500 sincere reviews by women who relieved their menopause symptoms thanks to Macafem.