Why Do We Only Sell Macafem Online in Canada?
We have over 15 years' experience in delivering the best quality product straight to women's doorsteps, and we take pride in complementing it with an easy and secure payment process, excellent customer care, and prompt replies to any inquiries.
This is why we only sell Macafem supplements through our online store, instead of at any Canadian supermarkets, pharmacies, distributors, or other websites.
By not using third party companies to distribute our product, we can personally ensure the best consumer experience for our Canadian customers.
This means that you will not find Macafem at Costco, Loblaws, or any of the stores or pharmacies in the box to the right. To buy Macafem supplements, simply place an order through our online store.
Where is Macafem NOT sold?

Macafem is not available in any Canadian supermarket, pharmacy, or supplier, such as: Costco, Bulkley Valley Wholesale, Buy-Low Foods, Cooper's Foods, Nesters Markets, Overwaitea Foods, PriceSmart Foods, Save-On-Foods, Urban Fare, Atlantic Cash & Carry, Atlantic Superstore, Atlantic SuperValu, Axep, Dominion, Entrepôts Presto, Club Entrepôt, Extra Foods, Fortinos, Freshmart, L'intermarche, Loblaws, Lucky Dollar Foods, Maxi & Cie, NG Cash & Carry, No Frills, Shoppers Drug Mart, Marché Richelieu, Metro, Metro Plus, Super C, Supermarches GP, Safeway Inc., Value Drug Mart, and other regional chains.
Buy Macafem Safely and Efficiently
The Macafem online store was built on state of the art security protocols, and our shipping process is quick and efficient. We also manage our own fulfilment center to make sure the shipping and handling process is always kept sharp.
We've been selling Macafem in Canada for over 15 years.
Our online store handles orders to over 60 countries.
Thousands of customers satisfied and over 250,000 bottles sold.
Your purchase comes with our full refund policy.
You will receive full customer support pre- and post-sale.
Shipments usually take just 1 or 2 weeks to reach your doorstep.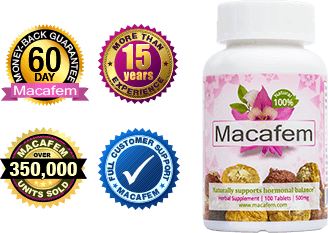 Some Testimonials from Clients in Canada
One of the best things I ever decided to try. I have been taking it for 5 years or more now and won't do without it. I am post menopause. It has helped me to sleep better at night and improved my overall wellbeing. I show thyroid improvements as well. Love this stuff!
I have found that Macafem is helping me transition through menopause easier. My weight is stable, hot flashes are rare and mild, water retention is gone, I have more energy and feel much better. I have combined it with eating healthy and regular exercise.
Macafem has completely stopped the hot flashes and the night sweats. It has also levelled out my moods. It is so great to be able to take a natural supplement rather than conventional medicine that the doctors are always pushing people to take....I believe mother nature has everything we need to help our bodies and I am very grateful for Macafem!!!
I am 61 yrs old. My hot flashes were so bad that the bottom of my glasses would fog up. Hormones supplements were helping a bit but my doctor said I had been on them too long and would not renew my prescription. I was in hell!! Months went by and the hot flashes were not letting up. My son had come for a visit and saw what I was going through. He went on the internet and found MACAFEM. I read up on it and decided to order the pills.
Read all reviews - Over 100 sincere reviews by women who relieved their menopause symptoms thanks to Macafem.
Learn About Macafem