Why Is Macafem Only Sold Online in India?
We choose not to work with third party companies to distribute our product in order to be able to provide personalized assistance to our customers, including clear, detailed information on how to use Macafem and prompt replies to any inquiries.
This means that you will not find Macafem at Hypercity or D-Mart nor in any of the stores or pharmacies in the box to the left. To buy Macafem supplements, placing an order through our online store is easy and safe.
Where is Macafem NOT sold?

Macafem is not available in any Indian supermarkets, pharmacies, or suppliers, such as: Adani, Bangalore Central, Big Apple, Big Bazaar, ebony, Egroceryshop, D-Mart, Focus Hypermarket, Food Bazaar, Hypercity, Lifestyle Stores, Gramina Super Market, Magna, Margin Free Market, Maveli Stores, National Handloom, Nilgiris, Ratnadeep, Reliance Fresh, Spinach, The House Of Quality Products, Spencers Retail, Subhiksha, Star Bazaar, Foodworld Supermarket, Sahil Medical, Planet Health, Bharat Medical, Trust Chemists & Druggists, Hayat Pharmacy, 98.4 Pharmacy, MedPlus Pharmacy, Religare Wellness, VIVA PHARMACY, Mediplus Healthcare Pharmacy, Wellness Forever Medicare, Mathi Medicals, Muthu Pharmacy, India Medical, Hetero Pharmacy, Harihara Medicals.
Buy Macafem Securely and Hassle-free
We have over 10 years' experience in delivering the best quality product straight to women's doors, and we strive to complement our high quality product and easy and secure payment process with excellent customer care.
Macafem's online store has been open for business for more than a dozen years.
In that time, more than 250,000 bottles have been purchased by thousands of clients around the world.
If you are not satisfied, we offer a full refund policy.
You will receive full customer support pre- and post-sale if you have any questions or concerns.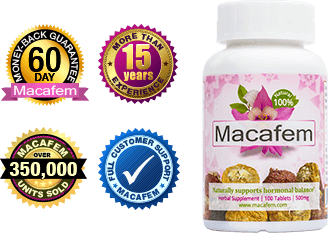 Some Testimonials of our Clients
I have been using Macafem for over 6years now !! Great product it helps you with whatever your overall symptoms lack of sleep hot flashes, irritations energy, I had stopped buying it since I started to feel with no symptoms but I always return to it!!
I am post menopausal, I always had beautiful healthy nails. After my menopause my nails started to split and my hair thinning. I found this product in the internet, after reading several reviews I decided to give it a try. I am in my first bottle and I can see my nails and hair getting healthy again. I give 4 stars bc I a m in my first bottle. I am ordering the 3 month supply and see how it goes. My night sweats have reduced as well. I hope this helps
I felt hopeless dealing with menopause. The fatigue, brain fogginess, and "the blues" were taking over my life. I knew it was not fair to my husband, so I googled for any help. I found Macafem. It has helped me find "my old self" again. Thank you.
Amazing supplement! I take 3 every morning and get great relief from perimenopause symptoms. Helps me feel calm, gives me energy, and I sleep so much better. A+++
Read all reviews - Over 500 sincere reviews by women who relieved their menopause symptoms thanks to Macafem.