Why Do We Only Sell Macafem Online in Ireland?
We have been delivering a premium-quality product directly to women's homes for over 15 years. During this time, we've always gone the extra mile to provide them with thorough, customized information on Macafem and menopause as well as excellent customer care.
In order to ensure customized and timely attention to each of our customers, we have chosen not to sell Macafem through any third parties, such as supermarkets, pharmacies, or distributors.
Therefore, although Macafem won't be available on the shelves of Tesco, Superdrug, or any of the stores or pharmacies in the box to the left, buying Macafem remains easy: simply place an order through our online store.
Where is Macafem NOT sold?

Macafem is not available in any Irish supermarkets, pharmacy chains, wholesalers, or suppliers, such as:

SuperValu, Lidl, Tesco, Dunnes Stores, Aldi, SPAR, Centra, Londis, Mace, Gala, Costcutter, Eurospar, Boots, Superdrug, Hickey's Pharmacies, or Sam McCauley Chemists.
Buy Macafem Safely and Efficiently
Our online store is a secure an efficient way to have Macafem delivered right to your doorstep. Since we also manage our own fulfilment center, we can provide you with any updates you need.
We've been selling Macafem for over 15 years.
Our online store handles orders to over 60 countries, Ireland included.
Thousands of happy customers and over 250,000 bottles sold.
Your satisfaction is guaranteed with our full refund policy.
You will receive full customer support pre- and post-sale.
Shipments usually take just 1 or 2 weeks.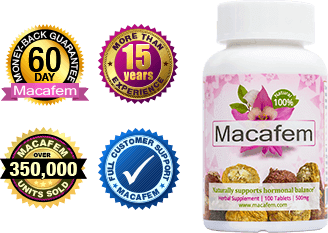 Some Testimonials from Clients
Macafem has been a game changer for me. Since using Macafem for 7 mos I no longer suffer from insomnia, hot flashes and night sweats; less brain fog. I started out taking 3 tablets/day I noticed increased appetite so I reduced to 1 tablet/day 5 days a week and 2 tablets/day 2 days a week. Works like a charm. Grateful to God that this product was shared with me.
I am a very emotional person and have been on an antidepressant for years which has made me pretty stable. I just turned 54 and I am still having periods most months. I have been taking Macafem consistently for about a year. I feel it has really made me more stable emotionally. I still cry and have emotions of course, but I don't feel so fragile. The few times I have run out of vitamins, I could tell the difference (and so could my husband!). I am
I am taking macafem for seven years. It reduces my anxiety and mood swing. It also improve my skin complexion. I look much younger after taking macafem. I am 63 years old now. Thank you macafem and I have recommended to my friends. 👍👍👍
This product really helped me! I was kinda skeptical but I figured I'd give it a shot after reading the reviews. I was having cycles every two weeks :) but when I started this product they stopped!!! I've been in perimenopause for quite some time now so I'm hoping this will continue to help me until I'm finished with menopause completely.
Read all reviews - Over 500 sincere reviews by women who relieved their menopause symptoms thanks to Macafem.