Why Do We Only Sell Macafem Online in Ireland?
We have been delivering a premium-quality product directly to women's homes for over 15 years. During this time, we've always gone the extra mile to provide them with thorough, customized information on Macafem and menopause as well as excellent customer care.
In order to ensure customized and timely attention to each of our customers, we have chosen not to sell Macafem through any third parties, such as supermarkets, pharmacies, or distributors.
Therefore, although Macafem won't be available on the shelves of Tesco, Superdrug, or any of the stores or pharmacies in the box to the left, buying Macafem remains easy: simply place an order through our online store.
Where is Macafem NOT sold?

Macafem is not available in any Irish supermarkets, pharmacy chains, wholesalers, or suppliers, such as:

SuperValu, Lidl, Tesco, Dunnes Stores, Aldi, SPAR, Centra, Londis, Mace, Gala, Costcutter, Eurospar, Boots, Superdrug, Hickey's Pharmacies, or Sam McCauley Chemists.
Buy Macafem Safely and Efficiently
Our online store is a secure an efficient way to have Macafem delivered right to your doorstep. Since we also manage our own fulfilment center, we can provide you with any updates you need.
We've been selling Macafem for over 15 years.
Our online store handles orders to over 60 countries, Ireland included.
Thousands of happy customers and over 250,000 bottles sold.
Your satisfaction is guaranteed with our full refund policy.
You will receive full customer support pre- and post-sale.
Shipments usually take just 1 or 2 weeks.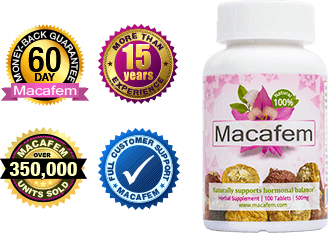 Some Testimonials from Clients
I have noticed a huge difference in my mood, energy levels and overall way of life after taking Macafem for 2 weeks now. I was Sceptical...a friend told me about it and how it helped her. I'm 49 and feel normal again!
Oh my goodness, Macafem did exactly what I needed! I HIGHLY recommend this for finding relief from menopause symptoms. Menopause had hit me hard (I'm 51). The night sweats were happening several times throughout the night so I could not get quality sleep. Hot flashes several times a day where the sweat would drip off me, and my mental clarity/emotional well being was deteriorating fast.

I searched and found Macafem and
This product has been a life saver! I was experiencing terrible joint pain and fatigue and the difference since I started taking Macafem has been dramatic. It provided almost immediate relief!
I really like this product. I am very sensitive to supplements (prone to migraines) and I have had no problems at all with Macafem. I take this regularly with my vitamins every day and my hot flashes are gone, gone, gone. I recently moved to another state and ran out of Macafem and after about a week the hot flashes returned. So, here I am quickly ordering replacement supplements because it's hot enough already in California!!
Read all reviews - Over 100 sincere reviews by women who relieved their menopause symptoms thanks to Macafem.