Why Do We Only Sell Macafem Online in Ireland?
We have been delivering a premium-quality product directly to women's homes for over 15 years. During this time, we've always gone the extra mile to provide them with thorough, customized information on Macafem and menopause as well as excellent customer care.
In order to ensure customized and timely attention to each of our customers, we have chosen not to sell Macafem through any third parties, such as supermarkets, pharmacies, or distributors.
Therefore, although Macafem won't be available on the shelves of Tesco, Superdrug, or any of the stores or pharmacies in the box to the left, buying Macafem remains easy: simply place an order through our online store.
Where is Macafem NOT sold?

Macafem is not available in any Irish supermarkets, pharmacy chains, wholesalers, or suppliers, such as:

SuperValu, Lidl, Tesco, Dunnes Stores, Aldi, SPAR, Centra, Londis, Mace, Gala, Costcutter, Eurospar, Boots, Superdrug, Hickey's Pharmacies, or Sam McCauley Chemists.
Buy Macafem Safely and Efficiently
Our online store is a secure an efficient way to have Macafem delivered right to your doorstep. Since we also manage our own fulfilment center, we can provide you with any updates you need.
We've been selling Macafem for over 15 years.
Our online store handles orders to over 60 countries, Ireland included.
Thousands of happy customers and over 250,000 bottles sold.
Your satisfaction is guaranteed with our full refund policy.
You will receive full customer support pre- and post-sale.
Shipments usually take just 1 or 2 weeks.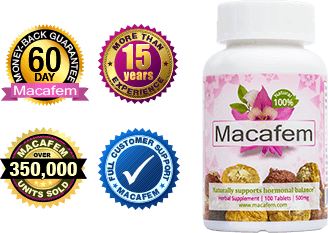 Some Testimonials from Clients
Menopause hit me like a ton of bricks! The night and day sweats and mood swings were the worst. I knew I did not want to go to the doctor, because he just wanted to put me on hormone therapy. I found Macafem when I was searching for a all natural way of dealing with it. I have been on it more more than a year now, and I can honestly say it has been a God sent. I feel like I have control over my self, I sleep better, I have more energy and
I had hot flashes for 10 years and tried everything in the stores they did not work in fact some of them made me worse and I couldn't sleep. Now I can finally sleep through the night and also not have to worry about major hot flashes during the day either. Macafem has been a blessing for me. Thank you so much.
I've been using Macafem for about 2 yrs and enjoying life without the bothersome menopause symptoms I had been previously experiencing. Earlier this year 2019, I ran out and decided to try a different brand. Within a couple of weeks the menopause symptoms returned (dizziness, night sweats, etc.). So, I ordered more Macafem and got back on the supplement. I didn't notice a difference right away, so I increased my tablet intake from 3 to 4 a day.
I stopped taking Macafem and boy! was I wrong. While NOT on Macafem, I had hot flashes several times a day - almost drenching in sweat - pitiful. Well, just restarted taking Macafem with pills left over and in four days the hot flashes have subsided considerably! Will continue to take Macafem; in fact, am reordering today. Am sorry I stopped but so glad Macafem was created. Thank you so much!
Read all reviews - Over 100 sincere reviews by women who relieved their menopause symptoms thanks to Macafem.
Learn About Macafem