Macafem Reviews
Macafem is an all-natural supplement that balances hormone levels in women by nourishing the endocrine glands. Read the latest Macafem reviews from women who have already tried this herbal supplement and overcome their symptoms of menopause, PMS, and other hormonal disorders.
Rated : 4.6 / 5
Based on 103 Reviews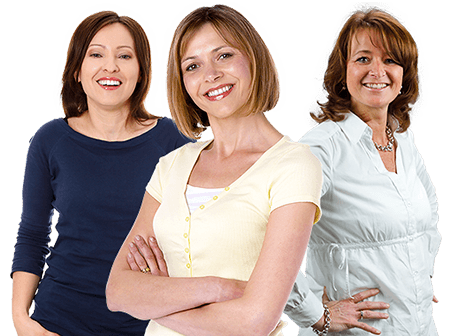 I was totally amazed at how my Hot Flashes and Night Sweats were relieved so quickly! I had been on Hormone replacement therapy for 7 years….and within 3 weeks of starting on Macafem, they were nearly all gone! I also noticed my energy "returning". It's nice to know that there is a product that balances my entire system, without adding artificial "hormones"!
Now, I highly recommend Macafem to all my friends having the issues I was dealing with.
I had been taking Black Cohosh with minimal results but within 2 weeks my hot flashes, dryness and lack of libidio was completely gone with Macafem! I was cautious at first- I am estrogen dominant ( migraine triggers) but Macafem worked beautifully! As a Nurse Practitioner I am always open to natural treatments. I would highly recommend this product!
I have been going thru menopause for over 3 years now. Initially, the experience was very challenging. I was handling the night sweats and hot flashes very well. However, I went thru a stage of heart palpitations that was overwhelming. I was introduced to Macafem by a girlfriend who had been experiencing the same symptoms. I was very skeptical about ordering and taking anything online. But, I took my chances because nothing else seem to work. I must say, after about 6 weeks of taking the Macafem, I started to feel much better. I no longer have the heart palpitations, nor do I notice the hot flashes and night sweats as much!!!
After reading the reviews I was really excited to try this product. I started having really bad hot flashes during mid 2016 and they were unbearable and embarrassing. I started taking the supplements immediately when I received my order. I really noticed the true effects after 60 days. The hot flashes have reduced tremendously! I feel better and better as each day goes by. I started with 3 pills per day and increased to 5. Taking 5 per day works better for me. Thank you!
At 44 I have begun experienced irregular menstrual cycles for the first time in my life, along with more challenging mood swings. Very quickly Macafem assisted my system to find balance and get back to better than normal. It has been a great support supplement to well being.
While taking 3 tablets daily of Macafem I have pretty much eliminated hot flushes. This has been my most obvious menopausal symptom. I don't have sleep issues and I believe it has helped me not to be anxious. I have taken short breaks and immedietely notice hot flushes return when I am stressed. Over all it appears to be working for me at this time. Have been taking it for over a year or more.
Wow, what can I say I'm so glad I came across this website. I started taking Macafem at the end of January and I can honestly say they have worked for me Its taken just short of 3 months to get the benefits, No more night sweats, mood swings which my husband is loving, and for some reason I'm not getting cramp anymore which is a godsend as it use to wake me up at night. I didn't realise how much these tablets worked until I had run out of them and I am waiting for my next lot to be shipped out so come on hurry up Macafem I NEED YOU and note to myself don't forget to order and not leave it till the last minute.
Mrs Catherine L. ( one happy customer 😃)
I have been taking this supplement for 2 weeks and can already tell a difference in the vaginal dryness and mood swings that I have been experiencing. Thanks for providing a natural alternative for a woman's reproductive health.
Macafem WORKS and works well!! I did not want to take any hormone replacement supplements due to all the problems they inevitably produce. This works! I have next to no more hot flashes!  I was getting them several times a day and at night. Now I may get them once or twice at the time my body normally would be menstruating once a month, had I not been in Menopause. Otherwise, nothing!  helps me with moodswings, memory, and energy also. You're doing yourself a dis-service if you don't at least try this product. You'll come to love it, as I have.
I am a very satisfied return customer. I found that I didn't need the full recommended dose of Macafem, and only require 1 pill per day for great results. My period resumed within a month of taking it, and overall I feel great. Thanks!