Macafem Reviews
Macafem is an all-natural supplement that balances hormone levels in women by nourishing the endocrine glands. Read the latest Macafem reviews from women who have already tried this herbal supplement and overcome their symptoms of menopause, PMS, and other hormonal disorders.
Rated : 4.6 / 5
Based on 85 Reviews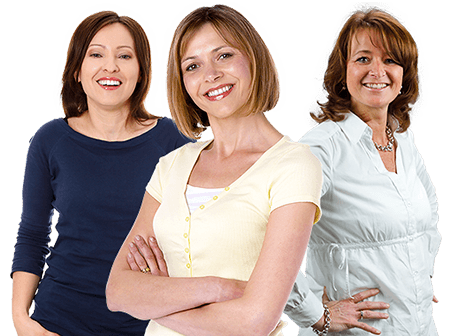 I was totally amazed at how my Hot Flashes and Night Sweats were relieved so quickly! I had been on Hormone replacement therapy for 7 years….and within 3 weeks of starting on Macafem, they were nearly all gone! I also noticed my energy "returning". It's nice to know that there is a product that balances my entire system, without adding artificial "hormones"!
Now, I highly recommend Macafem to all my friends having the issues I was dealing with.
I had been taking Black Cohosh with minimal results but within 2 weeks my hot flashes, dryness and lack of libidio was completely gone with Macafem! I was cautious at first- I am estrogen dominant ( migraine triggers) but Macafem worked beautifully! As a Nurse Practitioner I am always open to natural treatments. I would highly recommend this product!
Recently I thought that I might try something different. Well I did and I swiftly came running back to my Macafem! Felt like I was crawling out of my skin with uncontrollable emotions. After taking Macafem for a couple of days all is well once again. Ahhhhh peace within. Won't do that again!!
I no longer have night sweats where I wake up with wet pajamas, pillow and sheets. It was miserable. Doctor gave me birth control to help but I hated the side effects. Researched online and was so happy that Macafem worked after a few weeks. I recommend it to all my friends. What a relief that Macafem was the first natural product I tried and it worked. Thank you Team Macafem!
Macafem has helped me with hot flashes at night. I received a boost of energy while taking the herbs.. Also, my libo has improved over a time period. This is my fifth time taking Macafem and I am very happy with the product.
I have only been taking them for a month, but I'm starting to decrease my prescription estrogen and have not noticed any menopausal side effects! I'm very excited to be taking a natural product and be getting off of pharmaceuticals. Thank you!
I started taking Macafem because my thyroid was showing as slightly low. I was post menopausal in my late fifties. Still not sleeping well at night. Overweight and no energy to do anything about it. I started with 3 pills per day, but increased it to twice a day instead. Within the first 2 months I was sleeping better, had increased energy and just felt better overall. My next checkup blood tests showed my thyroid was now more normal. I couldn't say enough good about this product. I have recommended it time and time again over the last 5 years. It is a natural solution to an age old feminine issue. I love it!
Macafem has changed my life by helping me get my hormones balanced and under control. I am young but I was having major mood swings, hot flashes, and I was exhausted all the time. I appreciate Macafem thinking of me, all natural and affordable!
My daytime hot flashes are gone, and nighttime 98% gone, making life so much better! Another pleasing added benefit is that my hair has become thicker, and my nails much stronger.
I take 2 Macafem in the morning, and 2 at night.
This product is a life saver. I was having headaches, dizziness, and my blood pressure was not regulated. My doctor wanted to put me on high blood pressure medication. Then I found Macafem…Within 3 weeks I began to feel like my old self again. I just renewed my supply! Highly recommend.