Macafem Reviews
Macafem is an all-natural supplement that balances hormone levels in women by nourishing the endocrine glands. Read the latest Macafem reviews from women who have already tried this herbal supplement and overcome their symptoms of menopause, PMS, and other hormonal disorders.
Rated : 4.6 / 5
Based on 142 Reviews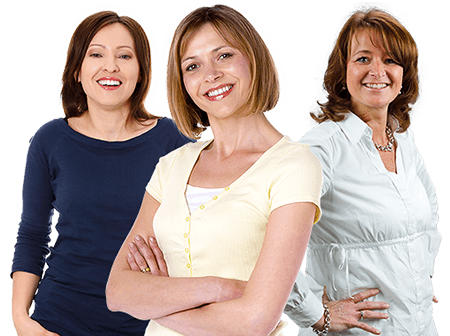 Wow, what can I say I'm so glad I came across this website. I started taking Macafem at the end of January and I can honestly say they have worked for me Its taken just short of 3 months to get the benefits, No more night sweats, mood swings which my husband is loving, and for some reason I'm not getting cramp anymore which is a godsend as it use to wake me up at night. I didn't realise how much these tablets worked until I had run out of them and I am waiting for my next lot to be shipped out so come on hurry up Macafem I NEED YOU and note to myself don't forget to order and not leave it till the last minute.
Mrs Catherine L. ( one happy customer 😃)
I had been taking Black Cohosh with minimal results but within 2 weeks my hot flashes, dryness and lack of libidio was completely gone with Macafem! I was cautious at first- I am estrogen dominant ( migraine triggers) but Macafem worked beautifully! As a Nurse Practitioner I am always open to natural treatments. I would highly recommend this product!
I had been looking for a way to help overcome a general feeling of sluggishness and the early symptoms of peri-menopause. I was struggling with unexplained weight gain, mood swings and little to no energy to get up and go or do anything really. I was exhausted constantly and just had no interest in anything really. I came across Macafem online and thought it was worth a try to see if it helped and within a week was full of energy and was overall much happier and easier to get along with. I would recommend this product to anyone who is struggling to feel themselves and give it a try, as a matter of fact several friends are now using this product daily on my recommendation and love it just as much!
Macafem stopped nausea within first 3 days of taking tablets. It stopped migraines occurring every fortnight within the first 6 weeks. Still have a lot of hot flashes and trouble sleeping but at least I can function on a daily basis. Have recommended Macafem to all my friends. Thank you.
I have only been taking it for month so far and it has helped with some things. My hot flashes have stopped completely. My mood swings have not been so often. I feel a lot happier. Just ordered another bottle since it states that it could take up to 60 days for the full effect so I just want to order one bottle at a time for now. I think this might be just what my body needed.
I have used many natural supplements to try and find relief from hot flashes, Macafem is the only thing that works for me. It has decreased my hot flashes by at least 90%. I would not write a review if it didn't work. Thank you Macafem for helping me!
I was suffering 40+ hot flashes per day, with insomnia and night sweats. After only one dose of Macafem I was down to 3 flashes with greatly reduced severity and no night sweats. Excellent product!
I've been using Macafem for nearly 3 years. I take 2 tablets a day – 1 in the morning and 1 before bed.. It has helped relieve my menopause symptoms and saved me from a great deal of discomfort.
I am 48 years old and I was having around 30 hot flashes a day. Each hot flash was about a minute or two long and was accompanied by a rapid heartbeat and chills. After 6 weeks on Macafem I am not experiencing any hot flashes at all. I am so relieved to find this product. I take 3 tablets every morning and it took almost 3 week of taking it consistently before I starting seeing a change. Every woman is different, but Macafem has worked beautifully for me.
I have used this product for over 5 years. I am now 51. I have not had a period for 5 years. I don't use the "M" word! Before I started using it, I had heat burst that would start hitting me during the day. I wanted to get ahead of it as I absolutely HATE being HOT. As long as I take it every day, I NEVER have these heat burst. I also sleep with a lot of covers and rarely get hot where I have to remove them. At least for now…I have found the right solution and I am managing something I dread. It has worked and I buy 5 bottles at a time. I only wish they would offer an entire years worth for a bigger discount. I would do it! Or, offer an automatic shipping plan with discounts. I would do that too. Thanks Macafem