Macafem Reviews
Macafem is an all-natural supplement that balances hormone levels in women by nourishing the endocrine glands. Read the latest Macafem reviews from women who have already tried this herbal supplement and overcome their symptoms of menopause, PMS, and other hormonal disorders.
Rated : 4.6 / 5
Based on 198 Reviews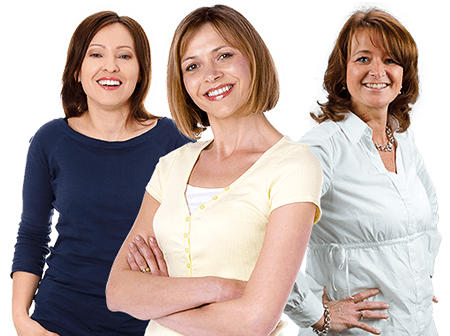 OMG I'm from Chicago Ladies and I have told every women that I know that is having problems with menopause about Macafem. I was so tired couldn't sleep, sore joints, mood swings, dryness you know where and them hot flashes that came like labor pains every 15 minutes on the minute. I was looking online and I came across Macafem website and I read everyone of the review. No one had nothing negative to say so I thought I would buy a bottle to try. I couldn't wait for the bottle to come and when it did I took my first 3 pills that day. Before the 7th day I noticed I was sleeping through the night my mood swings were changing I could handle things that were going at work. I still have hot flashes but I can count them on one hand and when I get them they don't feel as HOT as before and it's for a split second then they're gone. I was reading some of the other reviews and after taking 90 days worth they didn't have any. So I'm keeping the faith and taking these wonderful Macafem pills. Meanwhile I'll keep tell all the women I want us all to feel good during these trying times of menopause!!!! Thank you Thank you Thank you!!!!
I had been taking Black Cohosh with minimal results but within 2 weeks my hot flashes, dryness and lack of libidio was completely gone with Macafem! I was cautious at first- I am estrogen dominant ( migraine triggers) but Macafem worked beautifully! As a Nurse Practitioner I am always open to natural treatments. I would highly recommend this product!
After suffering for 2 years with vaginal dryness, hot flashes and other menopausal symptoms, I finally found something that really works! I feel like myself again! Ladies, this is something that you should really give a try. I've used creams, suppositories, oils and all it did was leave a mess and more frustration. As I was researching, I discovered this product and I had to give it a try. What was I going to lose, since I've already felt I lost my mind?! After a week of taking Macafem, I felt my nightmare was finally over! I couldn't believe that this actually works! It's helping me take back my life! I'm telling you, you won't regret giving Macafem a shot.
My name is Kimberly, I came across Macafem on the internet and it has been a HUGE Lifesaver to my premenopausal symptoms! :-) I took 3 pills a day : breakfast, lunch, & dinner & right away it helped my emotions come under control. I was having BAD HOT FLASHES ALL DAY LONG & at Night! After 4 months of taking the macafem I now Rarely have a hot flash! NO MORE PROFUSE SWEATING!!! THANK GOD! For an all Natural Solution to help women going through Menopause! :-) THANKS Macafem!!!
I was so amazed how fast this product worked I started using like a year ago. I been back in forth to the doctors and emergency room. I literally felt like I was having a nervous break down I couldn't sleep, wasn't eating , my menstrual cycle was thrown out of wack for some reason, my vision was hazy I keep getting uncontrollable chills and heart palpitations, my doctor wouldn't check my hormone levels unless I was trying to have another baby which I wasn't. But hormones can be thrown off by high amounts of stress and chronic depression which I was experiencing, and have experienced through the years. Somehow my hormones were wacky and Macafem was my hero. In like a week I started feeling better and after a month I was back to my old self sexual cravings and all. God blessed me with this product. Thank you so much you saved my life
I am a healthy 49 year old woman who started getting hot flashes and night sweats, leading to insomnia and irritability, about 4 months ago. I tried many things and have educated myself on the perimenopausal issues and best ways to deal with it. I can say that I noticed a difference within about 4 or 5 days of taking this product (3 tablets/daily). I know it'll work differently for everyone depending on what other issues or possible health blockages you have going on, but for me this product absolutely works! No more hot flashes during the day and I am sleeping a lot better now too because I'm not having hot flashes at night. I love it and can say I am so happy I found this product.
MACAFEM has changed my life! I've been using the product for over one year and am pleassed that my peri-menopause symptoms have disappeared. MACAFEM help me re-gain control of my life!
All I can say is this product really works. I am 46 and have been going through early menopause for 3 years now, due to a partial hysterectomy. It started that 2nd year. I noticed my hair thinning, just out of the clear blue and sweating mostly at night, which of course disrupted my sleep and the worst part for me out of all of this is the depression and not feeling like me and just crazy crazy thoughts that go through my mind. Also some anxiety. I definitely do not want to get on hormones so, I tried this product and some how ( not sure how) but it works. Somehow those horrible feelings and sadness don't feel as bad. Ladies don't be skeptical. Try it, you wont be disappointed. Good Luck!!!! Thanks again Macafem.
I had suddenly started breaking out with very deep blemishes, on my cheeks in particular. After doing some research and deciding it was hormone-related, I found Macafem and decided to give it a try. I liked the fact that it is a natural product. Since I started Macafem regularly, the blemishes are gone and have not returned! I only wish it would help with my other menstrual symptoms. But having the confidence to face the world again is priceless!
At 41 I had a total hysterectomy. Due to a heart condition I could not go onto hormone replacement. I have been managing very well with nothing, but at 44 I was starting to see and feel symptoms related to post menopause. I decided to try this product because it's all natural. I feel much better, more energized, and have had a lot less heat flashes (I only get these quick flashes of heat)! I just ordered my second bottle. If you are unhappy with symptoms of menopause of any sort, but do not or cannot use HRTs then I would suggest you try this product!