Macafem Reviews
Macafem is an all-natural supplement that balances hormone levels in women by nourishing the endocrine glands. Read the latest Macafem reviews from women who have already tried this herbal supplement and overcome their symptoms of menopause, PMS, and other hormonal disorders.
Rated : 4.6 / 5
Based on 157 Reviews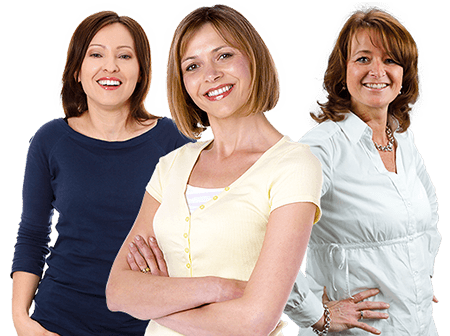 Wow, what can I say I'm so glad I came across this website. I started taking Macafem at the end of January and I can honestly say they have worked for me Its taken just short of 3 months to get the benefits, No more night sweats, mood swings which my husband is loving, and for some reason I'm not getting cramp anymore which is a godsend as it use to wake me up at night. I didn't realise how much these tablets worked until I had run out of them and I am waiting for my next lot to be shipped out so come on hurry up Macafem I NEED YOU and note to myself don't forget to order and not leave it till the last minute.
Mrs Catherine L. ( one happy customer 😃)
I had been taking Black Cohosh with minimal results but within 2 weeks my hot flashes, dryness and lack of libidio was completely gone with Macafem! I was cautious at first- I am estrogen dominant ( migraine triggers) but Macafem worked beautifully! As a Nurse Practitioner I am always open to natural treatments. I would highly recommend this product!
Great product! I have used many other's (for hormonal imbalance symptoms) and just can't find anything that works as well for me. Have recommended to all my friends who suffer from menopausal symptoms. I order from Australia and it usually takes around 3 weeks to arrive so its a good idea to order in advance, which I haven't done this time, so I'm dreading the return of symptoms in the mean time.
The only thing that i have found that totally takes away all the symptoms! Its wonderful stuff! I have stopped taking them probably 3 times over the past 2 years and usually in 1 to 2 months, or if something stressful happens in my life, then my symptoms come back. I start back on them and it usually takes about 1 month of taking 3 capsules per day before my symptoms disappear again. I just ordered 5 more bottles, and I plan on staying on them this time around…Very happy customer!
I have been using Macafem for 4 months and it has helped. It has reduced night sweats and hot flashes during the day. I have started sleeping through the night again. The instructions say to take 3 tablets twice a day. I started with 2 tablets in the morning and that is all that I need. You will have to experiment to see what dosage works for you. I did forget to take the tablets for 2 days and my symptoms started to increase so make sure you take daily.
I have been taking this for months and taking it to replace prescription Estrogen. I did not want to take Estrogen anymore side affects are terrible. I am 56 years old and have had a recent hysterectomy and Macafem has worked great it does relieve all those symptoms it says it does even though mine were minor I feel so much better taking a natural supplement please try Macafem you will be glad you did.
When I was 50 years old, my gynecologist told me to get off birth control pills so that my hormone levels could be tested. I never had another period, and within a month, hot flashes, increased appetite, and fatigue became an issue for me. I tried Estroven Weight Control for a couple of months, but I wanted to find a more effective product that was not an estrogen. After an online search, I found Macafem. I read and re-read the testimonials and reviews, and I decided to give it a try. The three tablets per day dosage was not effective for me. So, I increased to the maximum recommended dosage of three at breakfast and three at lunch. That dosage has worked for me for nearly three years. I contacted Macafem to ask about the amounts of minerals when considering taking supplements. They informed me that there are trace minerals that do not significantly affect overall levels in the body. They also assured me that there are no adverse effects from longterm use. I feel confident in recommending Macafem to my friends and to my female gynecologist and primary physician. Hot flashes increase when I miss or reduce my daily dosage. I am still dealing with weight gain, fatigue, and difficulty falling asleep, but Macafem definitely improved these issues. I am thankful for this natural product.
Body aches have been relieved tremendously, but I have bad hair loss I just started to use the product like about 2 weeks so the body aches has eased but not sure if it has helped yet with the hair loss. I do feel much better but my main problems was the hair loss, bod pains and mood swings with tiredness. Ladies please try at least one bottle to see if it helps you, that's what I did and I do not regret it, I just ordered a couple more bottles.
OMG. OMG.. OMG!!! Seriously!! I am here right now to buy 5 more bottles. I never want to run out. My hormones were so out of whack. I would wake up and ask myself if I would ever feel good again. I had aches and pains and no energy. My hot flashes and night sweats were something straight out of hell. I was to the point that I just didn't care if I was going to wake up the next day. It was terrible. By far the worst I have EVER felt in my whole life….I cannot describe how bad it was. Macafem has changed all of that. I feel 100% better. I need to work on losing the 30 pounds now but now that I feel better…..I am confident that will happen for me! Thank you so much for Macafem! I absolutely love it!!
I'm not going thru menopause at the moment- but I'm 46 yrs old and have begun skipping menstral cycles-just very irregular periods. Also some night sweats and getting these terrible hot flushes on my neck and face unexpectedly at all different times.. both day and night! It's been horrible! I've ever never experienced anything like this. My hair also has been thinning- just coming out a lot in the shower and the thinning spot has gotten very obvious..! I thought it was because I color my hair every 4 or 5 weeks to blend the grey.(I've colored it for years..premature grey hair is hereditary in my family and I'd gotten it since early twenties.) I had also noticed a significant change in my energy levels.. just such fatigue and low energy levels all of a sudden. I felt like I was not able to get enough sleep and just felt exhausted constantly no matter how long I'd sleep. I read about peri- menepause and realized sadly it's probably about this time for me. I refuse to accept that this is how my life will be from now on- all these physical changes that just depress me so badly.. I felt that there Got to be something I can do naturally to fight this. I reluctantly decided to order this product- and after about the third or fourth day of taking 3 a day, I noticed a huge improvement on those Hot flushes I've been trying to deal with! They were GONE..! Now after almost an entire month on these all natural tablets, I feel like I've never even HAD any of these symptoms- I feel so much better now- my fatigue is nothing like it was before and my hair honestly does not shed NEAR what it had before I began taking them. This is the truth- I truly am not joking and I'm a very big skeptic person on online purchases and reviews but I'm now ordering a 3 month supply because I really don't want to be without these. Try it and be patient a few days- maybe even a week and you will see for yourself. I'm giving a bottle to my mom!! The only issue I've noticed is a little nausea occasionally on an empty stomach but I'll deal with that any day over all the other symptoms that have disappeared!