Why Is Macafem Available Exclusively Online in South Africa?
At Macafem, we want to make sure that each of our South African customers receives the best possible purchase experience. We strive to provide reliable information and attentive customer care to all of our clients. This is why we choose to distribute Macafem only through our online store and avoid working with third parties.
This means Macafem is not available at supermarkets (like Shoprite or Woolworths), pharmacies, or any of the retailers mentioned in the box to the right.
Where Is Macafem NOT Sold?

Macafem is NOT available available in any South African supermarkets, pharmacies, or other providers, such as: Shoprite, Woolworths, 7 Eleven, Boxer, Cambridge Food, Checkers, SPAR, Fruit and Veg City Group, Makro, Megasave Cash & Carry, OK Grocer, OK Minimart, USave, Tiger Brands, Clicks, MediRite, Pharmacy at Spar, Pick n Pay Pharmacy, and other local stores.
Buy Macafem Through Our Secure Interface
Placing an order through Macafem's online store is very simple and 100% secure. We take pride in complementing our top-quality product with an easy payment process, excellent customer care, and prompt replies to any inquiries.
We have been selling Macafem through our online store for more than 15 years.
Over 250,000 bottles have been delivered to thousands of clients over that time.
We offer a full refund policy if you are not satisfied with the supplement.
You will receive full customer support pre- and post-sale.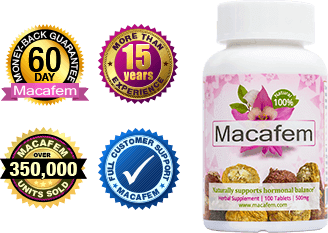 A Testimonial from One of Our Clients in South Africa
Macafem has helped me tremendously with unpleasant hot flushes and keeping my weight under control - thank you Macafem, I am truly grateful!
I had a lot of doubts, but Macafem is absolutely amazing and I am shocked at my great results. I have been taking it for almost 2 months and seeing tremendous results. My skin is clearing up, I have energy, my cycle is regulating and it's even lightening the dark marks I had from acne scars. This product is truly one of a kind. I am a client for life. It really does work!! I have even recommended it to other people.
I would just like to say THANK YOU!. I have been struggling for more than 2 years with hair growth on my chin, like a man.s morning stubble. And always had a tweezer with me, plucking throughout the day as it grew with the speed of lightning. After only 4 days of using Macafem THE HAIR IS GONE! NONE IS GROWING! You cannot believe the difference this make in my life. Thank you! This is a miracle product. Regards.
Read all reviews - Over 500 sincere reviews by women who relieved their menopause symptoms thanks to Macafem.