Why Do We Only Sell Macafem Online in U.K.?
With over 15 years' experience in delivering top quality products straight to women's doors, we strive to complement our high quality product with specific, reliable information on its use and excellent customer service. Keeping that in mind, Macafem supplements are available in the United Kingdom exclusively through our online store, and is not available at any supermarkets, pharmacies, chemists, distributors, stockists, or other websites.
By not using third party companies to distribute our product, we can personally ensure the best consumer experience for our U.K. customers. To buy Macafem supplements, simply place an order through our online store.
Where is Macafem NOT sold?

Macafem is not available in any U.K. (England, Wales, Scotland, and Northern Ireland) supermarkets, stockists, pharmacies, or wholesalers, such as:

Tesco, Asda, Sainsbury's, Morrisons, Boots UK, Marks & Spencer, Superdrug, Co-op Pharmacy, Lloyds Pharmacy, Co-Op and The Co-operative Food, Waitrose, Holland & Barrett, Iceland, Booths, Budgens, Centra, Costcutter, Eurospar, Farmfoods, Filco Foods, Heron Foods, Londis, Mace, Nisa-Today's, Ocado, Pak, SuperValu, SPAR, Whole Foods Supermarket, Numark Pharmacists, Rowlands Pharmacy, or Day Lewis Pharmacy.
Buy Macafem Safely and Efficiently
Buying Macafem online is safe and effective. We manage our own fulfilment center in order to provide the best possible shipping and handling service.
We've been selling Macafem online for over 15 years.
Additionally, we ship to over 60 countries, including the U.K
So far, we've sold over 250,000 bottles to thousands of clients.
We offer a full refund policy.
You will receive full customer support pre- and post-sale.
Shipments usually take 1 – 2 weeks to reach your doorstep.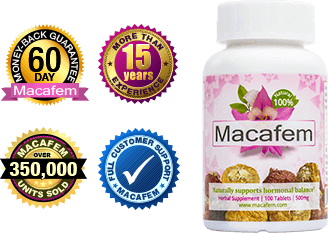 Some Testimonials of Clients from the U.K.
Thank goodness I found Macafem as I was suffering from the most terrible joint pain and cracking of my joints everywhere as well as continual hot flushes throughout the day. My symptoms literally stopped within days of taking Macafem no more aches no more cracking of joints it was like a miracle. I have tried other suppliers but this one is the best and has changed the quality of my life. Thank you so much
I've been taking these for years and they help so much. I recently ran out and went for a few weeks without them, but started to wonder why I became completely hormonal, breaking out in spots and bursting into tears for absolutely no reason. Back to ordering more Macafem as I know it will sort me out!
I started using Macafem a year ago when my menopause symptoms became acute with many debilitating hot flushes both day and night. It took about 20 days of taking Macafem for the symptoms to ease and now they are under control. I do occasionally have a hot flush but very few. I really recommend you to anyone who has these menopause symptoms.

I am so pleased I took a chance on trying this product as nothing I had tried
These tablets are great! I have no hot flushes during the day anymore, and just one minor one at night now. I sleep much better. Hardly any PMS pain, and no additional weight gain. I have more energy than before. I have now finished my 3 months original supply and just ordered another 5 bottles.
Read all reviews - Over 500 sincere reviews by women who relieved their menopause symptoms thanks to Macafem.