Why Do We Only Sell Macafem Online in U.K.?
With over 15 years' experience in delivering top quality products straight to women's doors, we strive to complement our high quality product with specific, reliable information on its use and excellent customer service. Keeping that in mind, Macafem supplements are available in the United Kingdom exclusively through our online store, and is not available at any supermarkets, pharmacies, chemists, distributors, stockists, or other websites.
By not using third party companies to distribute our product, we can personally ensure the best consumer experience for our U.K. customers. To buy Macafem supplements, simply place an order through our online store.
Where is Macafem NOT sold?

Macafem is not available in any U.K. (England, Wales, Scotland, and Northern Ireland) supermarkets, stockists, pharmacies, or wholesalers, such as:

Tesco, Asda, Sainsbury's, Morrisons, Boots UK, Marks & Spencer, Superdrug, Co-op Pharmacy, Lloyds Pharmacy, Co-Op and The Co-operative Food, Waitrose, Holland & Barrett, Iceland, Booths, Budgens, Centra, Costcutter, Eurospar, Farmfoods, Filco Foods, Heron Foods, Londis, Mace, Nisa-Today's, Ocado, Pak, SuperValu, SPAR, Whole Foods Supermarket, Numark Pharmacists, Rowlands Pharmacy, or Day Lewis Pharmacy.
Buy Macafem Safely and Efficiently
Buying Macafem online is safe and effective. We manage our own fulfilment center in order to provide the best possible shipping and handling service.
We've been selling Macafem online for over 15 years.
Additionally, we ship to over 60 countries, including the U.K
So far, we've sold over 250,000 bottles to thousands of clients.
We offer a full refund policy.
You will receive full customer support pre- and post-sale.
Shipments usually take 1 – 2 weeks to reach your doorstep.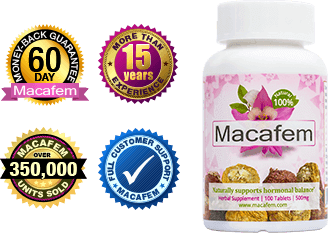 Some Testimonials of Clients from the U.K.
Having tried many other options, Macafem has helped not only my slightly thining hairline but as an added bonus my mood is level and my sweats are all disappeared! X
Mafacam makes people's hair feel stronger again. I think it can regrow hair back. On my second bottle. Hope to continue with it.
I have got my life back! The cotton ball around my head with the feeling of not being able to string a sentence together lifted almost immediately and after 2 month of use, most of my perimenopause symptoms are gone or at least down to a minimum. I do notice a change in my body depending on where in my cycle I am, but the symptoms I´m having now is nothing compared to before.
I noticed a difference with Macafem within a couple of weeks. Energy levels improved, hot flashes decreased. Started on 2 tablets a day which seems to be the right level. I had a hysterectomy 6 years ago and hrt did not do anything for the symptoms. I wish I could find a distributor in the UK. I would certainly be happy to sell this product!
Thank you Macafem
Read all reviews - Over 100 sincere reviews by women who relieved their menopause symptoms thanks to Macafem.