Macafem is a 100% natural supplement made of a special selection of Lepidium meyenii, a plant that produces a radish-like root in a multitude of colors. This herb grows at high altitudes amidst an extremely harsh weather, where it extracts from the soil a superb amount of nutrients with hormonal stimulating properties.
Keep reading to learn about:
Macafem's Herb Cultivation
DID YOU KNOW?
Average temperatures in this part of Peru can get as low as 14°F (-10°C) but rarely ever go above 55°F (13°C). Because of the altitude, there are also sharp fluctuations in temperature between night and day.
This plant has been cultivated for over 2,000 years in the Andes Mountains in Peru, at altitudes as high as 12,000 – 14,500 feet (3,660 – 4,420 m) above sea level.
The plants are sown at the beginning of the rainy season, which is from October to December. The growth of the crop usually extends for a period of seven to eight months, and harvest begins in June or July.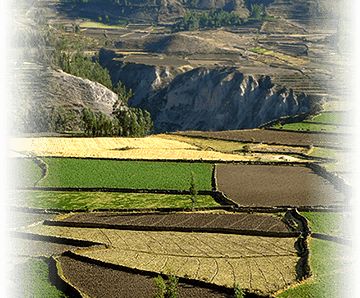 This herb has a great ability to extract nutrients from the surrounding soil, sterilizing the ground. This is why, once every two years of cultivation, the land must be left fallow for at least five years to allow it to recover.
Macafem's herb is one of few edible plants in the world that can grow at such high altitudes and in such extreme weather. Freezing cold temperatures, intense sunlight, and strong winds are just some of the conditions in which it grows. Although this extreme environment is not suitable for growing much vegetation, this herb can survive because it has the ability to absorb all the surrounding nutrients.
GEOGRAPHICAL REFERENCE
Mount Whitney, the highest peak in California, stands at 14,505 feet above sea level. The Macafem herb grows at roughly the same height!
This allows this plant to store a high concentration of minerals, vitamins, alkaloids, and other nutritional components inside its root.
The volcanically enriched soils, unpolluted atmosphere, and extremely cold and oxygen-poor climate are some of the main reasons for the extraordinary properties of this herb.
Macafem Nutrient Composition
Macafem contains a high concentration of vitamins, minerals, healthy alkaloids, amino acids, fatty acids, and proteins. Macafem composition is explained as follows:
Vitamins, Minerals, and Healthy Alkaloids
Macafem is a superb source of dietary minerals including calcium, magnesium, phosphorous, potassium, and iron. In addition, Macafem contains vitamins such as B1, B2, C, and E. All these minerals and vitamins are essential for a healthy body. Macafem also contains alkaloids, which are herbal compounds that have been proven to naturally stimulate hormonal glands.
Fatty Acids, Fiber, Proteins, and Amino Acids
All these nutrients are essential for a healthy body. Macafem contains fatty acids, which are necessary for the formation of cell membranes, the proper development of the nervous system, and the correct functioning of the brain. It also contains fiber, which promotes a healthy digestive system. In addition, Macafem is rich in many of the essential amino acids which, besides building cells and repairing tissue, are an important part of enzymes and the hormonal system.

Macafem Quality Standards
Macafem's production has been certified under the following quality standards:
ISO 9001:2000 – Quality Management

Macafem is certified under the highest quality production standards and guarantees 100% customer satisfaction.

SQF 2000 & HACCP: Safe Quality Foods

SQF Certification 2000 is audited by the SQF program, which is a leader in global food security and certification of quality systems and management.

GMP: Good Manufacturing Practice

Macafem is labeled completely safe for human consumption and guaranteed at the highest form of hygienic quality standards.
LEARN MORE: HOW DOES MACAFEM WORK?