Macafem Herbal Supplement
Macafem is a 100% natural supplement that can help alleviate health conditions related to hormonal imbalance in women. Among its many benefits, it can provide relief from menopause symptoms and PMS while promoting healthy sexual function and a strong immune system.
Macafem Ingredients and Nutrients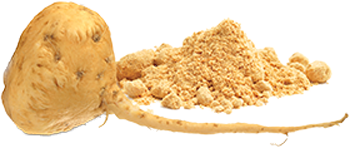 Macafem's main ingredient is premium quality Lepidium meyenii, a highly-nutritious radish-like root that has been cultivated in the Andes for over 2,000 years. It contains a diverse range of vitamins, minerals, and amino acids. Macafem's main bioactive ingredients are its unique alkaloids, which nourish and stimulate the body's hormonal glands.
Read more about what is Macafem.
How Does Macafem Work?
The unique nutrients in Macafem have been proven to naturally nourish and stimulate the hormonal glands and endocrine system as a whole. By balancing the hormonal system, Macafem stabilizes regular functions in the body, helping relieve hormonal disorders.Watch the video at the right below to learn more about how Macafem works.
Benefits of Macafem
By regulating the body's hormonal processes in a natural way, Macafem provides a wide range of health benefits to women. These include:
Relieving menopause symptoms
Relieving PMS symptoms
Promoting healthy sexual function
Enhancing the immune system
Increasing energy and vitality
Improving fertility
Preventing osteoporosis
Easing postmenopause symptoms
Read more about the benefits of Macafem.
Menopausal women also use Macafem for weight loss and for preventing hair loss, among other symptoms. Furthermore, this supplement can be used by adult women of all ages to maintain hormonal health.
Medical Testimonials
What makes Macafem so effective is that instead of introducing artificial hormones, it encourages your hormonal system to produce the needed hormones naturally. Dr. Malaspina has been using this herb in his practice for over a decade. He says: "It does not cause the ovaries in women to atrophy, as conventional hormone replacement therapy does."
Latest Testimonials and Reviews
Testimonials
I just celebrated my 50th birthday this year ...the celebration was short lived because almost instantly I started having menopausal symptoms. 2-3 night sweats - so bad I would have to change clothing; 5
Read more testimonials.
Macafem Reviews
I am 45 and have been experiencing menopause symptoms: fatigue, hair loss, night sweats, mental fog, moodiness, weight gain, nausea, abdominal disturbance, etc. The fatigue and mental fog was affecting my
Read more Macafem reviews.
Are You Ready to Make a Healthy Decision?
Have a hormonally balanced, natural life.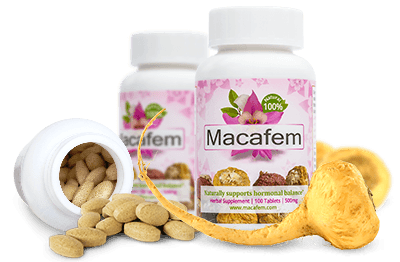 Yes, I want to buy Macafem now! I'd like more information first.