Macafem Reviews
Macafem is an all-natural supplement that balances hormone levels in women by nourishing the endocrine glands. Read the latest Macafem reviews from women who have already tried this herbal supplement and overcome their symptoms of menopause, PMS, and other hormonal disorders.
Rated : 4.6 / 5
Based on 33 Reviews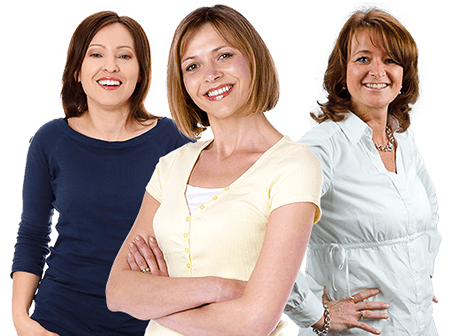 OK girls I am 53 & I have had every symptom of MENOPAUSE There are!!!! to the point I could not drive anymore from the anxiety !!! Did some research found MACAFEM Thank You GOD it saved my life, & Marriage!! Within 2 days I could feel a big difference all the way around, within 5 days I Drove to town to get milk YEH!! I own a seasonal Buss. Green House Witch gets very hot I am able to run my business & be civil to my customers!!! I took the pills for 4 months then Quit to see if symptoms would come back, They DID, Started Back on pills & all is well again! For those of you who like caffeine NO MATTER what you do to help menopause symptoms the CAFFEINE counter backs your treatment!!!!! Be fair to yourself do a test no CAFFEINE for 1 week Don't Cheat You will be AMAZED!!!! I am ordering more pills today as I am running low & DONT want to run out. OH I have been taking the pills for a YEAR now!!!! Hope this helps some of you make up your mind, Don't wait put in an order !!!!!!!!!!
I started taking Macafem last year after a hysterectomy, at 39. I loved it! I had fibroids that had grown quite large over the course of four years (my uterus was 18.5 week size). My hormones were so out of whack, I was unable to lose weight and felt a little bit like I was going crazy. I think Macafem helps me lose weight (I only take the 1x/day for 30 days, annually). I feel very in control of my emotions, now, as well. I tell everyone about it when they ask about my weight loss (I had been working out daily for a few years before the surgery and was building muscle, but not losing much fat). I figure, fix the machine – the glands – not dump in more hormones in ways that are dangerous. I just ordered my batch for the year, and I was disappointed. One of the really nice things about this supplement, for someone like myself who doesn't take supplements because she doesn't like taking pills, is that it was smooth and and thin and went down really easy. Now, the pills are fatter and drier and are hard to swallow. I hope the company will go back to the old format.
ANSWER FROM MACAFEM
Jessica, thank you very much for your testimonial and feedback.
In a continuous endeavor to improve Macafem, the shape and thickness of the tablets did change in 2015. After gathering feedback from our clients, we have determined that thickness should be reduced, which we are in the process of doing. This improvement will come late 2016.
I've had amazing results from this product. Nothing else relieved my hot flashes and mood swings as well. It took a couple of weeks to start having an effect, but I have kept using it now for several years with no side effects.
I really wasn't sure if it was the Macafem that made me feel better. I was just feeling better. But, I ran out…tried a different product. All of my old symptoms returned, and they were much worse. Fatigue, mood swings, depression, hot flashes…I'm going back to Macafem and hope that's the difference. I bought five bottles!!
I have been taking this product for 7 months and have noticed a significant difference. My hot flashes have completely gone and my hair loss and really slowed down. I take two in the morning and 2 at lunch everyday. I tried to decrease it to 2 a day but felt the hot flashes coming back so went back to 4. I will remain on it for a year and try again. Highly recommend macafem for these two reasons.
Macafem has taken away all of my peri-menopausal symptoms and I feel great. I recommend Macafem to all of my friends. IT REALLY WORKS! Thank you Macafem
I have always had a physical job, I began having terrible muscle cramps associated to whatever muscle I was using at the time, even my tongue. I was snappy at my coworkers to the point that, I was wondering, did I just say that??? I got online and started checking things out. I liked Macafem because it was all natural and not plant hormone substitutes, it promotes your body to continue doing what it does naturally. I AM so grateful I found it, it totally changed my situation. Muscle cramps are down by at least 90%, I can do my job again & there is no longer an evil little Gremlin shouting at people thru my mouth. I do still have a very short period, but it's no big deal.
Thank you Macafem, you gave me a normal life back & have taken the scary out of menopause for me!!!
It has really helped me. I am post menopausal, so assumed I was through with hormone changes. After having to go to the ER for what appeared to be a panic attack, I did a lot of research, and found out that our glands also produce hormones, and they usually drop drastically between 55-60 years old. (I'm 61) I have Factor V Leiden, and can't take any hormone replacements, because they cause me to get blood clots.
So, I decided to cautiously give this a try. The Plus results are that I feel so much better; the fogginess is gone, the depression is gone, my energy and mood swings are so much better. The negative result has been the effect to my blood INR (blood clotting, or thinness of blood). It escalated the effectiveness of my Cumaden(blood thinner) to a dangerous level. I am working with my doctor to balance the two, so I can continue taking this, since I feel so much better. But, I want other people to be aware of this potentially side effect.
ANSWER FROM MACAFEM
Susan, thank you very much for your testimonial and feedback.
To all women, if currently taking medication, it is important to consult your healthcare professional before starting Macafem, as with any other supplement.
I love this product I'm 48 I am fit workout live a great life just started experiencing two periods fatigue tired not wanting to get out of bed I started looking up premenopausal symptoms and natural supplements this one had great reviews I have been taking them for almost a month, all my symptoms are gone pms pains gone fatigue gone my libido went up I feel great I take three a day I am sooo happy !!!!!
😂😂😂😂😂😂
I have menopausal joint pain and inflammation. Macafem has greatly eased my symptoms and I can't go without it. I have also noticed an increase in energy since taking Macafem. It really is a great product and I noticed relief in approximately 3 days. Great product.
Share Your Macafem Review With Us!