Macafem Dosages and Time Frames – Customer Testimonials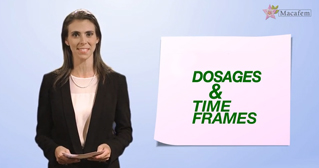 Michelle, who is part of the Macafem team, has brought us a few testimonials from some of our long-time customers, describing their experiences with different dosages and time frames.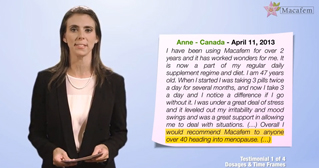 Anne, a 47-year-old from Canada, has been taking Macafem for over 2 years. She told us she began taking 3 pills, twice a day, for several months. Nowadays, she only takes 3 pills a day and is very happy with the results.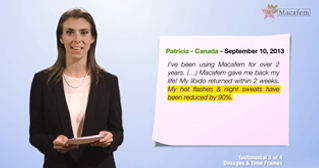 On the other hand, Julie, from France, told us that taking just 4 tablets a day seemed to suit her just fine. Next up, Patricia said she only needed 2 weeks to get her libido back, and her hot flashes also disappeared thanks to Macafem.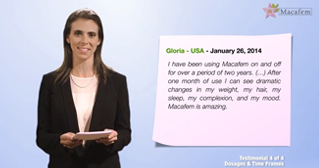 Our last testimonial comes from Gloria, who has been using Macafem on-and-off for two years. She describes how just one month of use can bring dramatic improvements to her weight, hair, sleep quality, and complexion.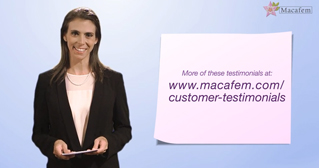 We would like to thank all the
amazing women
who shared their stories with us! If you want to read more sincere testimonials about Macafem,
please
visit:
www.macafem.com/customer-testimonials