Macafem Reviews 2021: See What the Hype Is About
Receiving customer reviews is a joyful moment to any company, and it's no different here at Macafem. They reassure us of our mission, motivate us to grow, and inspire us to help change the lives of more and more women.
But the reviews our customers leave us also have tremendous value to other menopausal women. Consider them the modern way to share one's treasured advice and spread the good word.
Discover Macafem reviews from 2021 so that you also can decide if you want to become one of our satisfied and symptom-free customers.
It Took Macafem Only 5 Days to Tackle M.O.'s Symptoms
M.O – Australia
After experiencing troubling side effects from GP prescribed HRT, like severe heart burn and spotting; I decided to give Macafem a try. After about 5 days, almost all of my menopause symptoms were down to a level, where I hardly noticed them. No hot flushes during the night! yipeee. The overwhelming anxiety had subsided and I was able to think clearly again. Macafem feels gentle to use and has no side effects on my body. Thank you!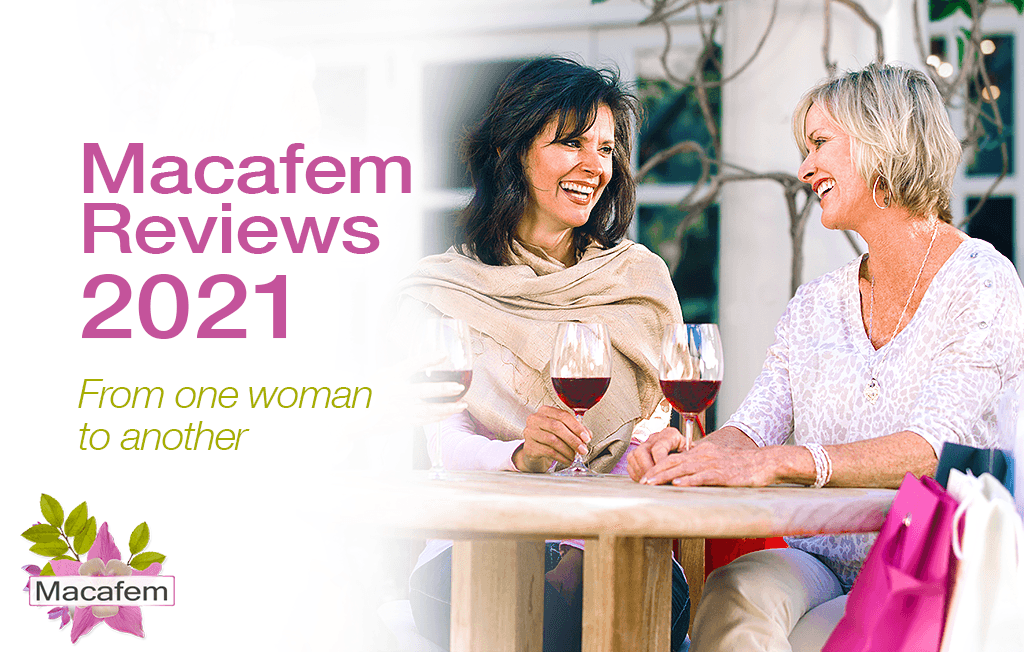 Lisa Doesn't Ever Want to Run Out of Macafem Again
Lisa – USA
Migraines & severe night sweats were wreaking havoc in my sleep and my days. I started Macafem and at some point ran out. Migraines returned and my husband said, "are you still taking that new supplement?" Aha moment. I had stopped due to being out. I reordered 6 month supply and have a reminder on my phone. I still have occasional migraine and night sweats, but NOTHING like it was. Now, if Macafem would offer a subscription service.
Diana Put Macafem to the Test, and It Passed with Flying Colors
Diana – USA
Tried Macafem about 10 years ago, took it on and off, more as my perimenopause symptoms got worse, I wasn't truly convinced Macafem made a difference until I stopped taking it for a few months then returned, symptoms pretty much went away especially during the week before and during my regular period when I had it. I tested it once again and stopped taking it for a couple weeks and symptoms returned, so I am once again taking it first thing in the morning and now know it makes a huge difference, I'm going to be 54 in November and close to reaching menopause. If you have symptoms and thinking about trying Macafem give it a try you will be surprised how it makes you feel so much better!
Macafem Helped Patti Find "Her Old Self" Again
Patti – USA
I felt hopeless dealing with menopause. The fatigue, brain fogginess, and "the blues" were taking over my life. I knew it was not fair to my husband, so I googled for any help. I found Macafem. It has helped me find "my old self" again. Thank you.
Maria is a Long-Term Macafem Customer and Swears by it
Maria – USA
I have been using Macafem for over 6years now !! Great product it helps you with whatever your overall symptoms lack of sleep hot flashes, irritations energy, I had stopped buying it since I started to feel with no symptoms but I always return to it!!
Macafem Allowed Penny to Avoid Taking HRT
Penny – USA
I have been a loyal customer for over 7 years. It is hard to express in words what a difference it made for me. Almost immediate results in night sweats, hot flashes, low energy and my sleep pattern greatly improved. When I first began having menopause symptoms- I discussed with my doctor and they began have conversations about hormone therapy and I was completely against not wanting to go that route as I have always taken great care to do all I can to naturally care for my health. So I began researching and came across Macefem and decided to try it. I am so thankful as it has did everything that I had hoped for and anyone who has been searching for something that will naturally take care of their symptoms needs to just try it. They will definitely be happy they did. P.j.
Macafem Has Made Janet's Symptoms Much More Manageable

Janet – USA
After having a bad reaction to products containing black cohosh, I researched to see if I could find another product to help with severe menopause symptoms. I found that black cohosh is not recommended for use more than about 6 months, which was useless when having several years of symptoms. I found some reviews for Macafem and decided to give it a try. While nothing alleviated all symptoms, Macafem has made them much more manageable over the years. I have taken it for nearly 8 years now.
Our customers' testimonials on what Macafem means in their lives speak for themselves. They're the most authentic acknowledgement a company can wish for. We close the year 2021 feeling grateful for the trust we've earned and hopeful to make a difference in more women's lives in years to come.