Testimonials about Depression
Many factors can foment the development of depression during menopause. The main physiological cause is changes in hormone levels, namely estrogen and progesterone. Estrogen plays a role in regulating mood via serotonin, the "feel-good" neurotransmitter. By nourishing the hormonal glands, Macafem can help relieve menopausal depression.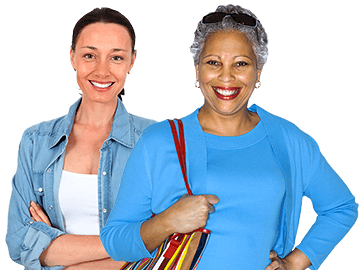 Before I tried Macafem, I had dizziness, mood swings, low energy, anxiety, I worried about everything, depression…..I would wake up with a feeling of doom:
When I tried Macafem, within 2 days I noticed a calm feeling and now it has been 2 months and I don't have any more dizziness, I am more calm, I dont worry as much or have as much anxiety an no more feelings of doom in the morning. I also have more energy and have lost some fat.
Macafem is amazing. Why didn't I find out about this before? It has changed my life.
I am almost 47, a mother of seven biological children ages 19-3 and I homeschool, so a lot of energy is given out on a daily/yearly basis. I began experiencing headaches randomly throughout the year in my early 30's. once I was in my 40's and still having babies, my headaches increased along with a deep depletion feeling. The past three years have been awful!
My doctor said my hormones were normal and everything about me was healthy and yet I felt so far away from the person I usually was. Most days were either fighting headaches or fighting a very lethargic and utterly depleting feeling. I stumbled across Macafem and decided to give it a shot. Before this I had researched everything from nutrition to chiropractors to doctors and nothing was making a difference. With in a week and a half to two weeks I was suspicious that this was my answer. I needed to wait until I had gone through two cycles and then it was confirmed! No headaches! No depletion feeling! For the last two years I would get headaches that lasted 3 to 5 days at least two times a month. That really robs a lot of life from you and makes it very hard to be a wife, a mother, and a friend!
I now feel like I am "ME". I WANT to get up and care for my family. I WANT to get up and bake and cook. I WANT to go hiking! And I feel like I have the energy to do it now. I despise multi marketing businesses but if Macafem was a multi marketing business, I would sell it. Not because I think I would get rich, but because I believe it really works and it doesn't cost a fortune.
After having four months of great success I came across a website that gave another product higher reviews. Because I thought that would maybe be even better than this product I gave it a try. With in a week and a half I could feel the headache and depletion feeling coming on. I immediately switched back to Macafem and feel like a million bucks again! Will not switch again!!!
Literally can't live without it. No more hot flashes, moodiness and feeling lousy. Macafem is a Godsend for me.
Prior to Macafem, I was going through severe depression and I know I do not need anti-depressant as I am fully aware that this depression is from fluctuating hormones. After taking Macafem, my mood swing greatly improved and I felt like I am alive. I was able to return to my hobbies . It had made my mind clearer and I was able to think straight again.
My husband and I love your product.
I really wasn't sure if it was the Macafem that made me feel better. I was just feeling better. But, I ran out…tried a different product. All of my old symptoms returned, and they were much worse. Fatigue, mood swings, depression, hot flashes…I'm going back to Macafem and hope that's the difference. I bought five bottles!!
It has really helped me. I am post menopausal, so assumed I was through with hormone changes. After having to go to the ER for what appeared to be a panic attack, I did a lot of research, and found out that our glands also produce hormones, and they usually drop drastically between 55-60 years old. (I'm 61) I have Factor V Leiden, and can't take any hormone replacements, because they cause me to get blood clots.
So, I decided to cautiously give this a try. The Plus results are that I feel so much better; the fogginess is gone, the depression is gone, my energy and mood swings are so much better. The negative result has been the effect to my blood INR (blood clotting, or thinness of blood). It escalated the effectiveness of my Cumaden(blood thinner) to a dangerous level. I am working with my doctor to balance the two, so I can continue taking this, since I feel so much better. But, I want other people to be aware of this potentially side effect.
ANSWER FROM MACAFEM
Susan, thank you very much for your testimonial and feedback.
To all women, if currently taking medication, it is important to consult your healthcare professional before starting Macafem, as with any other supplement.
I have been taking Macafem for almost 2 years now. I really didn't want to take synthetic hormones and found the Macafem to be a wonderful alternative. A few months ago I decided to give natural hormones a try and after being on them for about a week I quit taking the Macafem. My body didn't like that at all. I lost my energy and felt lethargic and the horrible anxiety/anger/sadness came back. The Macafem evidently does more for me than just adjust my estrogen and progesterone. I don't know what else it's doing, but whatever it is I want it to continue. I will keep taking it as long as I'm alive and they keep selling it!!!
Hi!!! I just thought I would share my story. I had a hysterectomy about 3 years ago and kept my ovaries. Well the first year I was ok. The 2nd year it all started just out of the clear blue I woke up and my hair was super thin, well I freaked out thinking it was my asthma medicine, etc… well in that same year hot flashes started and the waking up at night. Well then just out of the blue I wake up and I don't feel like myself, like I felt like I didn't love anyone, I didn't care about anything, and I felt very depressed and all of this made it worse. The ups and downs were terrible. All I can say is I was not myself. It just blew my mind how quick it all came on. Then on top of all of that was sex drive plummeted. Then when nothing was getting better I knew I had to do something and I knew I didn't want to get on the hormones so like many other women out there I researched and came across macafem. I can remember being on antidrepressants many many years ago and it taking over a month for me to even back out. I started on macafem and omg!!! the first week, heck in the first couple of days I could tell a difference. I cant explain it but my depressed feelings slowly went away and I felt like me again :) and my sex drive, wow, had come back. I didn't really suffer a lot with the hot flashes but when they came, they came at night which interrupted my sleep even that has mellowed out. I will take this if I have to for the rest of my days. I truly 100% believe in the product for me. I take 3 everyday and after 3 months of taking them I then take a month off because I don't want my body getting use them, since I plan on taking them for a long time, so please I hope u never stop producing these they have made me, me again. Menapause is horrible and I am just grateful for macafem. Ladies try it. Its natural and offers vitamins and minerals you cant go wrong. Good luck
For over a decade I've been suffering from menopausal symptoms. I'm now 61 and they just kept getting worse over the past ten years – night sweats, terrible thirst through the night, hot flashes, anxiety, depression, flat moods with a feeling of hopelessness, nervous, irritated, headaches, no sex drive, waking two or three times a night, horrible nightmares, a feeling of constant dread…. The list goes on and on. After one day on Macafem (2 pills) – I was sleepy, slept through the night and awoke feeling refreshed, clear headed, with a smile on my face. My mood had lifted and I feel like life is worth living once more and I haven't felt this way in many years. Thank you so much Macafem. I know this is only the second day but was so thrilled I had to let you know.
I am here to write another testimony! Once again I can honestly say how Macafem has made me feel like myself again before all the horrible night sweats and general feeling of sadness! I would NOT consider ever using another product! I know that after four years of using this product on and off it is the only herbal supplement that I trust and that works! I just ordered another bottle! Thanks again to Macafem and I am grateful it is available!