Testimonials about Mood Swings
Macafem is an all-natural supplement that brings balance to the hormonal system. When estrogen levels are regulated, serotonin levels typically follow suit. This supplement does not contain any hormones, but rather touts essential nutrients and unique alkaloids that nourish and stimulate the hormonal glands. With this support, the glands can then produce hormones at balanced levels, providing what the body needs.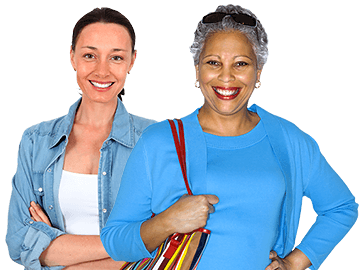 Menopause hit me like a ton of bricks! The night and day sweats and mood swings were the worst. I knew I did not want to go to the doctor, because he just wanted to put me on hormone therapy. I found Macafem when I was searching for a all natural way of dealing with it. I have been on it more more than a year now, and I can honestly say it has been a God sent. I feel like I have control over my self, I sleep better, I have more energy and the sweats are very few and so minor I barely notice them. I love your product and I have recommended it to any one that asks. Please don't change a thing about Macafem and don't ever leave my life. Lol
I have been taking Macafem for three months now and I have to be honest I am amazed with the results. My hot flashes are down to almost nothing, my mood swings are manageable and just my overall existence has changed. When my menopause first kicked in full swing I felt like my world was done. I know that sounds dramatic, but it was bad. My hormone imbalance was unmanageable. The effects were unbearable. I was on the internet in tears trying to find help. I stumbled onto this site and after reading about 25 to 30 reviews I decided to try it. I am so great full that I did. I don't know if it works for everyone but it definitely worked for me. Thank you to the makers of this supplement it has really made things better.
I've been taking Macafem for six months now. It has really helped diminish my hot flashes, night sweats and inability to sleep soundly. My mood and energy levels are much improved as well. My menstrual cycles are also more regulated as well. Before taking Macafem I was very worried about how I'd survive all of these pre-menopause symptoms. Taking Macafem has made a dramatic difference for me, I don't know what I'd do without it. Thank you!
Macafem has completely stopped the hot flashes and the night sweats. It has also levelled out my moods. It is so great to be able to take a natural supplement rather than conventional medicine that the doctors are always pushing people to take….I believe mother nature has everything we need to help our bodies and I am very grateful for Macafem!!!
Macafem has made such a big difference in my teen daughters life and in our family. Since taking Macafem. she no longer suffers from PMS, therefore the family no longer has to suffer HER PMS either! She also suffered from depression, and she says that she is much happier now. Her moodiness and grouchiness is gone. The first month of taking Macafem, I could tell a little change. However, by the second month of taking Macafem, I did not even know that her "cycle" had come and gone. THANK YOU Macafem! I no longer live with a Jekyll and Hyde! :)
Macafem has been a lifesaver for me! It has drastically reduced the number of hot flashes that I have from more than 10 a day to maybe a few a week and sometimes less! My sleep is better and my mood is better.
I highly recommend Macafem as a natural alternative to traditional HRT.
I stumbled across this product as I was searching for menopause remedies. I was not sleeping through the night and having several severe hot flashes throughout the day not to mention the mood swings/low energy/weight gain. I've only been taking this product for a couple of days and notice my surge in energy, my thoughts seem to be clearer and the hot flashes are not as severe. I am so looking forward to the impact it will have on my weight loss.
Thank You so much!
I've been using Macafem for about 5 years. I ran out of it a couple of times and each time, I anxiously waited for my supply to come. I had pre-menopause problems of heavy sporadic bleeding. OBGYN prescribed birth control, twiced, to help. I would use it for a month and stop. I did not like the idea of birth control at 50+ years of age. So after the 2nd time, I searched for a natural remedy and found Macafem. I was tired and growing old quickly. Macafem has given me back my energy and made menopause an easy transition. Macafem has definitely helped my mood swings and sleep. I am regularly mistaken by folks for being the mother of my grandkids. I am nearing 59 years of age and feel 40 again. Thank you Macafem.
Macafem has given me so much relief, as I am 3 years into menopause and I feel a difference when I am not taking it. My mood is clearly better when I take it and I feel super edgy when I run out waiting for a new bottle. Macafem, simply harmonizes your hormones as promised. I truly recommend using this product.
I was skeptical at first but a friend recommended the product to me so I purchased a bottle of 100 tablets. I had an appointment for another matter with my primary care doctor and took the product along to ask his opinion on it. I asked him if he thought it was 'hocus pocus' or if it might help alleviate the symptoms I was experiencing. He studied the bottle and told me that it should definitely help and that Maca root products were effective and safe. It has eliminated all hot flashes and other mood swing symptoms for me!