Testimonials about Mood Swings
Macafem is an all-natural supplement that brings balance to the hormonal system. When estrogen levels are regulated, serotonin levels typically follow suit. This supplement does not contain any hormones, but rather touts essential nutrients and unique alkaloids that nourish and stimulate the hormonal glands. With this support, the glands can then produce hormones at balanced levels, providing what the body needs.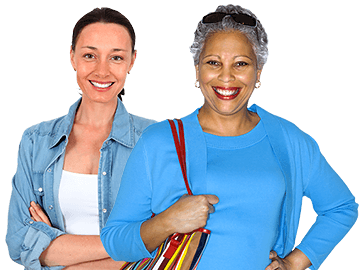 I have been using this product for almost a year. I have tried various doses and I did have to try to find which dose was best for me, it has changed over time as I move further in to menopause. I have tried as many as six and as little as one. I found the best dose for me currently is two tablets, taken in the morning only, Gives energy, but if taken later than early to mid afternoon, they will keep me up at night. I have found improvement in mood swings, sleeping, hot flashes, irritability, hair loss, have noticed better concentration, and I've noticed more energy. I have not noticed so much with weight loss, unfortunately, I'm struggling with 10 pounds, but I did read the part about diet and exercise on your website just now, and I'm going to adhere more closely to those recommendations. I must say, since going into premenopause/postmenopause, I have eaten more junky food than I ever have in my life, and I feel like I definitely have food cravings, something I have never struggled with since being a teen. The food cravings are always late at night before bed and after I have gone to sleep, they actually wake me up. The food cravings are never early in the day. Interestingly, I stopped getting bladder infections a few months after I began taking this product. I had been taking a probiotic/cranberry supplement that was very very good at preventing them, and I took them only as needed which was every few weeks. I have not needed to take that particular supplement since taking these. It was an ancillary benefit that I wasn't expecting but I did wanted to share this, because that's huge for me. My gynecologist has told me that it's very common for postmenopausal women to have chronic/frequent bladder infections. I wonder if there is a relation with estrogen levels… I would recommend starting slow with this supplement, I started with one tablet and waited a month before I increased, honestly it took me several months to feel like I had a handle on what dose was best for me. Thank you very much for a product that seems very high quality and has really helped me. I feel very fortunate to have found your product.
I was skeptical after having a partial hysterectomy, but I took this product, It seemed I was breezing through, until I ran out, oh boy not good, I was angry without knowing why, I was often feeling down without energy, tension was staying in my neck and shoulders all the time and just an overall feeling of blah, I have now re-ordered and will never let myself run out again, I can't wait for the brain fog and the irritability to go away, I will continue to pray daily, but lol, I believe the lord was saying I am here, but you know what you must do.
I have been using Macafem for several years now and I always think when I run out that I don't really need to reorder because I'm feeling fine and it's not really doing anything for me, but….. After only a few days without it I know I am wrong! All of my old problems come back! I start having hot flashes several times an hour during the day, wake up with hot sweats during the night, get weepy over tiny things I should not be weeping over and generally just don't feel like myself anymore! As soon as I get my new order, within a few days everything is back the way it should be… no more sweats, no more flashes, no more crying! It really does work for me!
Menopause hit me like a ton of bricks! The night and day sweats and mood swings were the worst. I knew I did not want to go to the doctor, because he just wanted to put me on hormone therapy. I found Macafem when I was searching for a all natural way of dealing with it. I have been on it more more than a year now, and I can honestly say it has been a God sent. I feel like I have control over my self, I sleep better, I have more energy and the sweats are very few and so minor I barely notice them. I love your product and I have recommended it to any one that asks. Please don't change a thing about Macafem and don't ever leave my life. Lol
Hello Ladies,
My name is Phyllis and IL I've been taking Macafem now for about 3 years now. Macafem really works for me. I'm soooo in love with this product and I highly recommend Macafem. I stopped taking it for awhile but this heat is back on and I had to order me some more and this time 4 bottles. I can't wait until it comes in the mail. There's other products out there but this is the first one I ordered and I trust this product. It helped me out a lot with the mood swings and hot hot flashes! I'm telling you ladies and oh it also helped with the dryness of the VJay-jay too! So there you have it!!! It works for me and the only way you'll know if it works for you is to try it!!!
I have been taking Macafem for three months now and I have to be honest I am amazed with the results. My hot flashes are down to almost nothing, my mood swings are manageable and just my overall existence has changed. When my menopause first kicked in full swing I felt like my world was done. I know that sounds dramatic, but it was bad. My hormone imbalance was unmanageable. The effects were unbearable. I was on the internet in tears trying to find help. I stumbled onto this site and after reading about 25 to 30 reviews I decided to try it. I am so great full that I did. I don't know if it works for everyone but it definitely worked for me. Thank you to the makers of this supplement it has really made things better.
I've been taking Macafem for six months now. It has really helped diminish my hot flashes, night sweats and inability to sleep soundly. My mood and energy levels are much improved as well. My menstrual cycles are also more regulated as well. Before taking Macafem I was very worried about how I'd survive all of these pre-menopause symptoms. Taking Macafem has made a dramatic difference for me, I don't know what I'd do without it. Thank you!
Macafem has completely stopped the hot flashes and the night sweats. It has also levelled out my moods. It is so great to be able to take a natural supplement rather than conventional medicine that the doctors are always pushing people to take….I believe mother nature has everything we need to help our bodies and I am very grateful for Macafem!!!
Macafem has made such a big difference in my teen daughters life and in our family. Since taking Macafem. she no longer suffers from PMS, therefore the family no longer has to suffer HER PMS either! She also suffered from depression, and she says that she is much happier now. Her moodiness and grouchiness is gone. The first month of taking Macafem, I could tell a little change. However, by the second month of taking Macafem, I did not even know that her "cycle" had come and gone. THANK YOU Macafem! I no longer live with a Jekyll and Hyde! :)
Macafem has been a lifesaver for me! It has drastically reduced the number of hot flashes that I have from more than 10 a day to maybe a few a week and sometimes less! My sleep is better and my mood is better.
I highly recommend Macafem as a natural alternative to traditional HRT.