Testimonials about Weight Gain
Changes in weight are closely linked to fluctuations in hormone levels, especially during the menopause transition. High testosterone levels also influence the accumulation of midsection fat and lower estrogen levels can increase appetite while reducing energy levels. Macafem can help women maintain a healthy weight by balancing hormone levels naturally and increasing energy levels.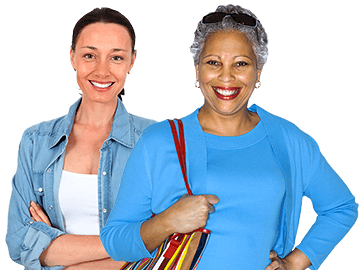 I started taking Macafem in 2011 and had complete relief of all my extreem menopause symptoms within my 1st bottle. I had a complete hysterectomy in 2014 (only have my ovaries remaining) and only take Macafem. I did try to switch to other brands of maca thinking it would be the same but none of them work the same. I get complete relief and take no other menopause therapy (chemical or natural). I also have blood sugar issues from Reactive Hypoglycemia and Macafem helps me manage that too. I also had success with serious weight loss. I work in a pharmacy and tell every woman who asks about the over the counter menopause products to go to the Macafem website first. I wasted a lot of money on the OTC products before I found Macafem, it has been a Blessing to have it!!
I started taking Macafem because my thyroid was showing as slightly low. I was post menopausal in my late fifties. Still not sleeping well at night. Overweight and no energy to do anything about it. I started with 3 pills per day, but increased it to twice a day instead. Within the first 2 months I was sleeping better, had increased energy and just felt better overall. My next checkup blood tests showed my thyroid was now more normal. I couldn't say enough good about this product. I have recommended it time and time again over the last 5 years. It is a natural solution to an age old feminine issue. I love it!
Sara

- United Arab Emirates
Product is great (five stars). Stops hot flashes, controls weight issues, stops headaches, nausea and bloating. A miracle in a tablet. Makes you feel like a normal person again.
Shame that for International customers they do not offer a variety of shipping options. Not all countries have such a good postal service as the US. This is why it only gets a 4 star rating!
I'm so please with Macafem! I have suffered from endometriosis since I was in my 20's. I almost always have bleeding between cycles and also before my cycle starts. When I hit my mid-40's things got even worse, with extremely heavy cycles, mid-section weight gain, etc. After about 2 months on Macafem, things are so much better! Absolutely no spotting, and a regular period. Also, my mid-section is slimming down again. I wish that I had known about Macafem sooner!
I started taking Macafem last year after a hysterectomy, at 39. I loved it! I had fibroids that had grown quite large over the course of four years (my uterus was 18.5 week size). My hormones were so out of whack, I was unable to lose weight and felt a little bit like I was going crazy. I think Macafem helps me lose weight (I only take the 1x/day for 30 days, annually). I feel very in control of my emotions, now, as well. I tell everyone about it when they ask about my weight loss (I had been working out daily for a few years before the surgery and was building muscle, but not losing much fat). I figure, fix the machine – the glands – not dump in more hormones in ways that are dangerous. I just ordered my batch for the year, and I was disappointed. One of the really nice things about this supplement, for someone like myself who doesn't take supplements because she doesn't like taking pills, is that it was smooth and and thin and went down really easy. Now, the pills are fatter and drier and are hard to swallow. I hope the company will go back to the old format.
ANSWER FROM MACAFEM
Jessica, thank you very much for your testimonial and feedback.
In a continuous endeavor to improve Macafem, the shape and thickness of the tablets did change in 2015. After gathering feedback from our clients, we have determined that thickness should be reduced, which we are in the process of doing. This improvement will come late 2016.
I'm a 56 year old woman who is in the full throes of menopause. For the past 2 years I've been searching for a safe way to get some relief from the following symptoms; hot flashes, decreased libido, fatigue, memory & cognitive changes, insomnia, weight gain and generally feeling just blah most of the time. I found Macafem while hunting for an alternative to HRT which I had decided I definitely did not want to do. I can report, after taking Macafem for the first month, is that ALL of the symptoms I've mentioned above have lessened substantially!!! I actually felt 10 years younger!! I felt like myself again!! I say felt because I've run out and am awaiting my order. It's been about 2 weeks since I took the last of my first bottle and those symptoms I've mentioned have returned with a vengeance! I wanted proof as to whether Macafem does what it says and I've got it! It REALLY does work!!!! I believe that with continued use I will see the end of these symptoms. I will certainly make sure going forward to place my order before I run out and not after! :-). Thanks Macafem!
I am 45 and have been experiencing menopause symptoms: fatigue, hair loss, night sweats, mental fog, moodiness, weight gain, nausea, abdominal disturbance, etc. The fatigue and mental fog was affecting my everyday normal functions, it had become such a continuous problem that I wasn't able to function in my job, I can't take HRT so I starting researching natural supplements for fatigue in menopause and that's when I came across the Macafem, as I am in Australia I was a little nervous about purchasing this from America but the reviews where so good and with the money back guarantee, I thought I would give it a shot and I am so glad that I did, by the end of the first week my fatigue had decreased and my memory had returned, I have been on 3 tablets a day for about 4 weeks and have noticed a significant improvement in the fatigue and my sore breasts and other symptoms, at first I had a little bloating but that subsided by the 2nd week, I am so glad that I persevered with Macafem, it has changed by life, I can actually remember things and peoples names !!
I've been suffering with hot flashes, mood swings and weight gain. I've gained 10lb in the last 4 months .i was getting up to 15/20 flashes a night, it was terrible .I was tested and found out i was in full blown menopause, doctor said i should avoid HRT as there was a history of cancer in my family . I researched herbal remedies and found Macafem ,I checked out all the reviews then ordered 3 bottles, these were delivered very quickly. This tablet is fantastic a miracle pill, I started the tablets a month ago taking 3 tablets a day , I noticed a change in my mood within a week, much happier, I've been taking the tablets for a month , The flashes have gone completely, I couldn't be happier, I would definitely recommend like i say a miracle pill, I'm finally getting my life back.
I'm 52 and in the middle of menopause. I started taking Macafem because the supplement I've been taking for hormone balance simply stopped working and I did not want to resort to HRT.
But, I was wiped out (exhausted in ways that I don´t ever remember feeling before), my weight was going up and down by 4 to 6 pounds without any provocation, my breasts were almost as sore as if I were pregnant and I was having mild middle of the night anxiety attacks that were baseless. So, after doing some research, I landed on Macafem. I've been taking it for nearly two months (3 pills in the morning) and since taking it my body is back to normal no nighttime anxiety, my breasts are comfortable, my weight is stabilized (at my normal lower weight) and I feel really really good. I highly recommend it!
I am 49 and experiencing menopause symptoms: fatigue, hair loss, night sweats, mental fog, moodiness, weight gain, nausea, abdominal distress, etc. The night sweats and fatigue had become such a continuous problem that I knew I had to do something about it. I researched menopause relief on the internet and found that Macafem seemed to be the more appropriate choice. I have been on a 2-3 tablet a day regimen for about 6 weeks and have noticed a significant improvement in the fatigue and night sweats. I actually wake up realizing, wow! another night without a hot flash. I have had a couple here and there, but the intensity was not the same as before. The fatigue has also basically disappeared. I have energy and don't feel the need to take a nap in the day anymore. I feel that I am mentally in a better place overall because of Macafem. So happy to have found it! Hoping that eventually the Macafem will help with the hair thinning of my scalp as well. Time will tell, but I am extremely hopeful!