Testimonials about Weight Gain
Changes in weight are closely linked to fluctuations in hormone levels, especially during the menopause transition. High testosterone levels also influence the accumulation of midsection fat and lower estrogen levels can increase appetite while reducing energy levels. Macafem can help women maintain a healthy weight by balancing hormone levels naturally and increasing energy levels.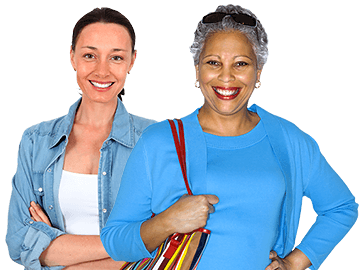 It has helped me regulate my weight, my symptoms and cycle! Incredible! It took though 6 months of taking 4 pills at a time to start working.
Have used this product for the last year and happy with it. I have just run out of it and waiting a while before reordering to see how I am. All the hot sweats are back along with the aches and pains but worst of all feeling sluggish and have definitely put on some weight 😕 reordering and won't leave it so long next time. They are a bit pricey however you get what you pay for these days, I've tried lots but non work as well as these.
I have found that Macafem is helping me transition through menopause easier. My weight is stable, hot flashes are rare and mild, water retention is gone, I have more energy and feel much better. I have combined it with eating healthy and regular exercise.
Macafem absolutely works! I was experiencing mood swings, erratic period, weight gain, fatigue and hair loss. All of my symptoms have subsided. I feel myself again. I'm so thankful that I stumbled across this online while researching menopause symptoms and recommend this product to all ladies. It really does work.
Love this product. Reordering! Helps with dryness due to hysterectomy, moodiness, weight regulation, etc. I take 2 every morning.
The Macafem has helped tremendously with hot flashes, brain fog, and mood swings. It seems to have stabilized my body chemistry. I notice I have more energy and feel less tired. I take in the morning as directed, and two tablets seems to be a great dose for my body. I told my ob-gyn about it and she's going to try it, as well! It's so much better than HRT, black cohosh, soy products, and many other products I tried out of desperation. I have slow thyroid function and cannot have a lot of soy, so the Macafem has been great; also helps stabilize weight.
I was miserable and had little hope of any relief from all the symptoms of menopause when I stumbled across the Macafem information. After a week of research and consideration I decided "what is there to lose?" I am ecstatic that I took the chance. I can not say enough wonderful things about this product. Hot flashes and night sweats are almost completely gone, have begun to lose weight, energy level has returned, but most important my mood and overall disposition has returned to a positive level. I am amazed and very thankful for this product.
Thank you…..Thank you…….Thank you…….
Had a full hysterectomy march 2018 went into full menopause!! weight gain night sweats and at least 10 hot flashes a day !!!Macafem has saved my life !! it started working after one week !!
I feel so much better and love love Macafem!! Thank you
Liz J.
After using Macafem for at least 2 years I have decided to have a break from it to observe my body and what it would do without it . Well, it has been been 5 weeks since I have stopped taking it and I found that do not sleep as well, my appetite is harder to to control, my libido is not the same. I also feel that it might have something to do with my menopausal joint aches – they are back again.
Would someone be able to let me know whether this product is beneficial for our joint pain?
Love this product. Ordering more again.
— ANSWER FROM MACAFEM —
Thank you for your review, Ewa! Macafem's nutrients help balance hormonal levels by nourishing the endocrine system. In this way, it alleviates most disorders related to hormonal imbalance, such as menopause symptoms, including joint pain.
I have been using macafem for little less then a month. And I have noticed the moods are better the menopause weight is slowly creeping off. Just ordered my second bottle.