Testimonials about Sleep Disorders
Macafem works to alleviate sleep disorders during menopause by balancing hormone levels. In particular estrogen, which fluctuations affect sleep quality, in part because this hormone regulates some neurotransmitters. It contains both essential nutrients and unique alkaloids that provide nourishment to the glands of the endocrine system.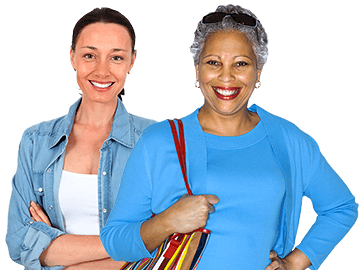 I started taking Macafem because my thyroid was showing as slightly low. I was post menopausal in my late fifties. Still not sleeping well at night. Overweight and no energy to do anything about it. I started with 3 pills per day, but increased it to twice a day instead. Within the first 2 months I was sleeping better, had increased energy and just felt better overall. My next checkup blood tests showed my thyroid was now more normal. I couldn't say enough good about this product. I have recommended it time and time again over the last 5 years. It is a natural solution to an age old feminine issue. I love it!
Macafem has really helped me. I can sleep through the night with out interruption, hot flashes have stopped and emotions are not roller-coaster. I'm known to be a nice peaceful person so to be moody was strange for me and those who know me. I saw improvement in 4-5 days by taking 1 to 2 pills a day. I placed my second order today .
It reduced my horrible hot flashes like nothing else I've used!!!!!!! I may get a little warm one or two times/day, but no hot flashes! I am sleeping wonderfully, better than I have in years. I made the mistake of not ordering prior to running out & the hot flashes are back with a vengeance. I've certainly learned my lesson & won't let that happen ever again! Great product! Thanks, Cory H.
Have taken 2 full bottles now (3 tablets each morning). Had no noticeable improvement for the first 3 weeks, but by week 4, noticed improved mood, energy returning. Sleep was less disturbed. Flashes are not a big issue for me so cannot comment. ran out and have been off pills for a week now and noticing the loss of benefits of taking them, so ordering a 3 month supply. I recommend.
I just finished my first bottle of Macafem and I couldn't be happier. After having my ovaries removed I started experiencing almost constant warm flushes, tremendous loss of sleep and a roller coaster ride of emotions. I knew I had to do something because it was greatly affecting my quality of life. Macafem gave me that quality back. It took only a day or two for the flushes to stop and then by the end of the first week I noticed a big improvement in my mood and steadily now my sleep has improved as well. I would recommend this product to my friends and family! Thank you!
I am 42. Although my doctor says I am not yet at "the change." by body tells me otherwise. Over the last six-either months I was gaining weight, my body was itching like mad, my cycle was coming every 21-25 days and when it arrived I would have the worst cramps of my life. I stumbled across Macafem through a discussion board and figured I would give it a try.
After one month of taking 2 pills a day things are better! The first thing I noticed was sleeping more soundly and waking up full of energy. I didn't even realize this was an issue for me. When my period arrived it took me by surprise. I didn't have the usual &*tch on wheels days the week preceding. Also, cramping was significantly reduced. Best of all the itching has stopped.
I am absolutely thrilled to have found Macafem. I am looking forward to seeing what other benefits arise in the coming weeks and months. THANK YOU Macafem!
I just celebrated my 50th birthday this year …the celebration was short lived because almost instantly I started having menopausal symptoms. 2-3 night sweats – so bad I would have to change clothing; 5 or more hot flashes during the day; mood swings; hair loss, heart palpitations and this weird "out of body" issue; To make matters worse, I was having trouble sleeping I felt like the poster woman for menopause! Horrible! I have done a bunch of research because I refuse to take synthetic hormones with all of their horrible side effects…. I found Macafem. I read the reviews – did research on the ingredients and then ordered a bottle. I take 3 pills every morn and journal how I feel and changes that I feel. 8 days in and night sweats are gone. I sleep through every night, hot flashes are down to 3 or less ; mood swings are mainly gone- and I have my energy back …back to working out ! Thank you for this life restoring product!
I'm a 56 year old woman who is in the full throes of menopause. For the past 2 years I've been searching for a safe way to get some relief from the following symptoms; hot flashes, decreased libido, fatigue, memory & cognitive changes, insomnia, weight gain and generally feeling just blah most of the time. I found Macafem while hunting for an alternative to HRT which I had decided I definitely did not want to do. I can report, after taking Macafem for the first month, is that ALL of the symptoms I've mentioned above have lessened substantially!!! I actually felt 10 years younger!! I felt like myself again!! I say felt because I've run out and am awaiting my order. It's been about 2 weeks since I took the last of my first bottle and those symptoms I've mentioned have returned with a vengeance! I wanted proof as to whether Macafem does what it says and I've got it! It REALLY does work!!!! I believe that with continued use I will see the end of these symptoms. I will certainly make sure going forward to place my order before I run out and not after! :-). Thanks Macafem!
Although initially sceptical of any 'over the counter' remedy, I started taking Macafem 7 months ago when hot flushes and lack of sleep were causing me major problems. I began on 6 tablets a day and within 2 weeks there was a noticeable difference in both. I reduced the dose gradually as the symptoms of menopause improved and now take only 2 a day to maintain control. I am so glad I took the step and would definitely recommend Macafem to anyone experiencing menopausal symptoms.
I'm 44 and in perimenopause. Night sweats around my cycle, trouble sleeping, constantly feel like I'm on the verge of a yeast infection or UTI. I've tried just about every supplement on the market – with minimal results. I've been on Macafem for three weeks and it is working. The first 2-3 days I did have some stomach discomfort, not bad, just uncomfortable. I would recommend taking only 2 the first couple of days, one at breakfast and one at lunch. (I took two in a.m. and one at lunch the first day… had to back off the second day) Like in another testimonial, I had really vivid dreams the first week or so, not bad dreams – just vivid…but that's tapered off and I am sleeping much better. My constant feeling of an impending YI or UTI has diminished to almost nothing. I also suffer from IBS and in the last week have been regular for the first time in years. That in itself is enough reason to celebrate! Libido, and sex, are more enjoyable for me too. I've already ordered another bottle and am keeping one at work and one at home so I don't get caught without. I still take 2 in the a.m. and 1 at lunch. I highly recommend this product – just start out slow and give it 2-3 weeks for significant results.