Testimonials about Sleep Disorders
Macafem works to alleviate sleep disorders during menopause by balancing hormone levels. In particular estrogen, which fluctuations affect sleep quality, in part because this hormone regulates some neurotransmitters. It contains both essential nutrients and unique alkaloids that provide nourishment to the glands of the endocrine system.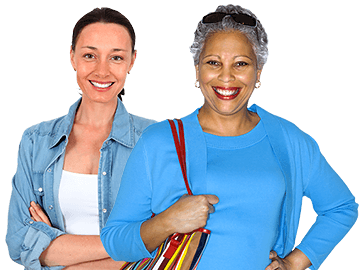 I have been taking Macafem for over 2 months. I was one of the lucky ones and noticed a difference with my hot flashes quite quickly. I still experience them but they are not near as intense or as frequent as they were. I was sleeping better in the beginning but am noticing a change in that now. Hopefully its a short term change. I cannot speak to weight loss as I have not improved my eating habits. I think it has also offered me a clearer mind. I can focus better and am more able to complete tasks.
Menopause hit me like a ton of bricks! The night and day sweats and mood swings were the worst. I knew I did not want to go to the doctor, because he just wanted to put me on hormone therapy. I found Macafem when I was searching for a all natural way of dealing with it. I have been on it more more than a year now, and I can honestly say it has been a God sent. I feel like I have control over my self, I sleep better, I have more energy and the sweats are very few and so minor I barely notice them. I love your product and I have recommended it to any one that asks. Please don't change a thing about Macafem and don't ever leave my life. Lol
One of the best things I ever decided to try. I have been taking it for 5 years or more now and won't do without it. I am post menopause. It has helped me to sleep better at night and improved my overall wellbeing. I show thyroid improvements as well. Love this stuff!
I had hot flashes for 10 years and tried everything in the stores they did not work in fact some of them made me worse and I couldn't sleep. Now I can finally sleep through the night and also not have to worry about major hot flashes during the day either. Macafem has been a blessing for me.
Thank you so much.
I've been taking Macafem for six months now. It has really helped diminish my hot flashes, night sweats and inability to sleep soundly. My mood and energy levels are much improved as well. My menstrual cycles are also more regulated as well. Before taking Macafem I was very worried about how I'd survive all of these pre-menopause symptoms. Taking Macafem has made a dramatic difference for me, I don't know what I'd do without it. Thank you!
Macafem has been a lifesaver for me! It has drastically reduced the number of hot flashes that I have from more than 10 a day to maybe a few a week and sometimes less! My sleep is better and my mood is better.
I highly recommend Macafem as a natural alternative to traditional HRT.
I've been using Macafem for about 5 years. I ran out of it a couple of times and each time, I anxiously waited for my supply to come. I had pre-menopause problems of heavy sporadic bleeding. OBGYN prescribed birth control, twiced, to help. I would use it for a month and stop. I did not like the idea of birth control at 50+ years of age. So after the 2nd time, I searched for a natural remedy and found Macafem. I was tired and growing old quickly. Macafem has given me back my energy and made menopause an easy transition. Macafem has definitely helped my mood swings and sleep. I am regularly mistaken by folks for being the mother of my grandkids. I am nearing 59 years of age and feel 40 again. Thank you Macafem.
This stuff works! I have been taking it for about 7 weeks now. At first I didn't think it was going to work, but I continued to take 3 of them per day faithfully. Around the fifth week mark, I realized I didn't have any more hot flashes right after dinner (which was always when they started.) I also noticed that even though I still had them when I went to bed, they were not as severe. This past week though, even those have diminished to almost nonexistent. There might be a couple of times when I start to feel warm, not hot, but I quickly cool down to normal within in minute. And I have been sleeping so well! Normally I would average about 2-3 hours of sleep, then toss and turn the rest of the night. I have been sleeping a solid 6-7 hours now without waking. Love it! Also, I can work out and get my body warmed up without triggering a hot flash. With summer coming, I am looking forward to being able to be out in the heat of the day without it triggering a hot flash. I hope this works indefinitely, unlike the black cohash which stopped working after 5 months. Thank you Macafrem!
I found that Macafem restored my regular period cycles. I felt a general improvement in energy and sleep. However, it also hurts my stomach at 3 pills a day. I cut back to two and that dosage still seems effective.
I was miserable for several months with hot flashes and night sweats. I couldn't sleep and was always so tired. 2 weeks on Macafem and all the symptoms subsided. I would highly recommend this to anyone who is premenopausal.