Testimonials about Energy Levels
Macafem contains beneficial alkaloids that stimulate hormone balance and increased energy. With the nourishment from these alkaloids and the micronutrients in the supplement, Macafem supports the endocrine glands, helping them to produce natural hormones like estrogen, progesterone, and testosterone at balanced levels. This addresses the root cause of low energy levels.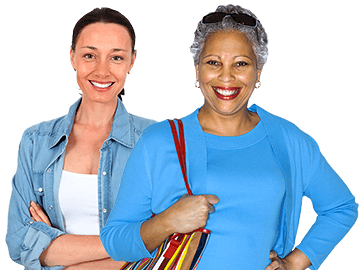 Before I tried Macafem, I had dizziness, mood swings, low energy, anxiety, I worried about everything, depression…..I would wake up with a feeling of doom:
When I tried Macafem, within 2 days I noticed a calm feeling and now it has been 2 months and I don't have any more dizziness, I am more calm, I dont worry as much or have as much anxiety an no more feelings of doom in the morning. I also have more energy and have lost some fat.
Macafem is amazing. Why didn't I find out about this before? It has changed my life.
This is a miracle supplement! It started working for me (46 years old) after one month. My periods are regular again; I no longer get menstrual migraines, I have more energy and few PMS symptoms. I feel as if I am in my 30s again. I strongly recommend Macafem in recommended doses.
Macafem has helped me with hot flashes at night. I received a boost of energy while taking the herbs.. Also, my libo has improved over a time period. This is my fifth time taking Macafem and I am very happy with the product.
I started taking Macafem because my thyroid was showing as slightly low. I was post menopausal in my late fifties. Still not sleeping well at night. Overweight and no energy to do anything about it. I started with 3 pills per day, but increased it to twice a day instead. Within the first 2 months I was sleeping better, had increased energy and just felt better overall. My next checkup blood tests showed my thyroid was now more normal. I couldn't say enough good about this product. I have recommended it time and time again over the last 5 years. It is a natural solution to an age old feminine issue. I love it!
Macafem has changed my life by helping me get my hormones balanced and under control. I am young but I was having major mood swings, hot flashes, and I was exhausted all the time. I appreciate Macafem thinking of me, all natural and affordable!
I ran out of Macafem about a month ago. Did not have the funds to pay for it till now becuz of the holidays. Have been feeling so tired and anxious. Been getting alot of hot flashes, and way too many mood swings. Can not wait til it arrives. I have been taking this product for 3 years now and love it. it really helps me alot.
I am almost 47, a mother of seven biological children ages 19-3 and I homeschool, so a lot of energy is given out on a daily/yearly basis. I began experiencing headaches randomly throughout the year in my early 30's. once I was in my 40's and still having babies, my headaches increased along with a deep depletion feeling. The past three years have been awful!
My doctor said my hormones were normal and everything about me was healthy and yet I felt so far away from the person I usually was. Most days were either fighting headaches or fighting a very lethargic and utterly depleting feeling. I stumbled across Macafem and decided to give it a shot. Before this I had researched everything from nutrition to chiropractors to doctors and nothing was making a difference. With in a week and a half to two weeks I was suspicious that this was my answer. I needed to wait until I had gone through two cycles and then it was confirmed! No headaches! No depletion feeling! For the last two years I would get headaches that lasted 3 to 5 days at least two times a month. That really robs a lot of life from you and makes it very hard to be a wife, a mother, and a friend!
I now feel like I am "ME". I WANT to get up and care for my family. I WANT to get up and bake and cook. I WANT to go hiking! And I feel like I have the energy to do it now. I despise multi marketing businesses but if Macafem was a multi marketing business, I would sell it. Not because I think I would get rich, but because I believe it really works and it doesn't cost a fortune.
After having four months of great success I came across a website that gave another product higher reviews. Because I thought that would maybe be even better than this product I gave it a try. With in a week and a half I could feel the headache and depletion feeling coming on. I immediately switched back to Macafem and feel like a million bucks again! Will not switch again!!!
I was totally amazed at how my Hot Flashes and Night Sweats were relieved so quickly! I had been on Hormone replacement therapy for 7 years….and within 3 weeks of starting on Macafem, they were nearly all gone! I also noticed my energy "returning". It's nice to know that there is a product that balances my entire system, without adding artificial "hormones"!
Now, I highly recommend Macafem to all my friends having the issues I was dealing with.
It's working great for me at 1.5 tablets a day! Almost all signs of hot flashes are gone, I have way more energy and I'm not nearly as dizzy. I shared this info with my primary care doc and he gave me the thumbs up on taking it!
Have taken 2 full bottles now (3 tablets each morning). Had no noticeable improvement for the first 3 weeks, but by week 4, noticed improved mood, energy returning. Sleep was less disturbed. Flashes are not a big issue for me so cannot comment. ran out and have been off pills for a week now and noticing the loss of benefits of taking them, so ordering a 3 month supply. I recommend.