Testimonials about Hot Flashes
Macafem decreases the frequency and intensity of hot flashes by naturally restoring hormonal balance. The key lies in the natural, unique nutrients that Macafem contains. In particular, its beneficial alkaloids act by nourishing and stimulating the endocrine system as a whole, which encourages the body to produce hormones at balanced levels. When estrogen is balanced, the brain doesn't get mixed messages and overheats the body unnecessarily.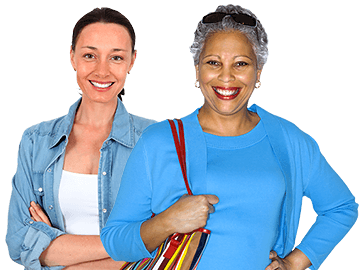 I have been taking Macafem for a few years now and I do not suffer from a ton of hot flashes and feel more myself. I definitely feel a difference when I forget to take it, but as soon as I take my dose I feel relief. I recommend women to go the natural way and give it a whirl.. You won't be disappointed.
I have been taking Macafem for over 2 months. I was one of the lucky ones and noticed a difference with my hot flashes quite quickly. I still experience them but they are not near as intense or as frequent as they were. I was sleeping better in the beginning but am noticing a change in that now. Hopefully its a short term change. I cannot speak to weight loss as I have not improved my eating habits. I think it has also offered me a clearer mind. I can focus better and am more able to complete tasks.
Menopause hit me like a ton of bricks! The night and day sweats and mood swings were the worst. I knew I did not want to go to the doctor, because he just wanted to put me on hormone therapy. I found Macafem when I was searching for a all natural way of dealing with it. I have been on it more more than a year now, and I can honestly say it has been a God sent. I feel like I have control over my self, I sleep better, I have more energy and the sweats are very few and so minor I barely notice them. I love your product and I have recommended it to any one that asks. Please don't change a thing about Macafem and don't ever leave my life. Lol
I had hot flashes for 10 years and tried everything in the stores they did not work in fact some of them made me worse and I couldn't sleep. Now I can finally sleep through the night and also not have to worry about major hot flashes during the day either. Macafem has been a blessing for me.
Thank you so much.
I stopped taking Macafem and boy! was I wrong. While NOT on Macafem, I had hot flashes several times a day – almost drenching in sweat – pitiful. Well, just restarted taking Macafem with pills left over and in four days the hot flashes have subsided considerably! Will continue to take Macafem; in fact, am reordering today. Am sorry I stopped but so glad Macafem was created. Thank you so much!
I have found that Macafem is helping me transition through menopause easier. My weight is stable, hot flashes are rare and mild, water retention is gone, I have more energy and feel much better. I have combined it with eating healthy and regular exercise.
I have been taking Macafem for three months now and I have to be honest I am amazed with the results. My hot flashes are down to almost nothing, my mood swings are manageable and just my overall existence has changed. When my menopause first kicked in full swing I felt like my world was done. I know that sounds dramatic, but it was bad. My hormone imbalance was unmanageable. The effects were unbearable. I was on the internet in tears trying to find help. I stumbled onto this site and after reading about 25 to 30 reviews I decided to try it. I am so great full that I did. I don't know if it works for everyone but it definitely worked for me. Thank you to the makers of this supplement it has really made things better.
I've been taking Macafem for six months now. It has really helped diminish my hot flashes, night sweats and inability to sleep soundly. My mood and energy levels are much improved as well. My menstrual cycles are also more regulated as well. Before taking Macafem I was very worried about how I'd survive all of these pre-menopause symptoms. Taking Macafem has made a dramatic difference for me, I don't know what I'd do without it. Thank you!
Macafem has completely stopped the hot flashes and the night sweats. It has also levelled out my moods. It is so great to be able to take a natural supplement rather than conventional medicine that the doctors are always pushing people to take….I believe mother nature has everything we need to help our bodies and I am very grateful for Macafem!!!
This piece of gem is WONDERFUL, words can not explain how terrific it is. Once you figure out how many pills to take to decrease or diminish the hot flash, night sweat, or any other symptoms. I normally take 2 pills in the morning and afternoon and I'm good. But warning, DO NOT run out of them because the symptoms will come back. I normally order 2-3 bottles at a time.